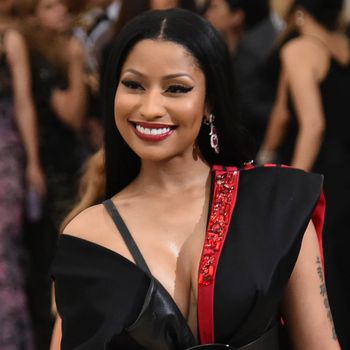 We don't deserve Nicki Minaj.
Photo: Mike Coppola/Getty Images for People.com
Catch Nicki Minaj in the right place at the right time, and you have a decent chance of lightening your financial load. Minaj fans got a front row seat to that lesson on Twitter Saturday night, when Minaj was promoting a fan contest and a Twitter user asked for an unconventional prize: tuition assistance. Minaj agreed, but not without some strict stipulations. "Show me straight A's that I can verify w/ur school and I'll pay it. Who wants to join THAT contest?!?! Dead serious. Shld I set it up?," she wrote. Faced with a resounding yes, she then promised funds to a host of high-achieving scholars who slid into her DMs.
Amid the generosity laid a tough negotiator.
Throughout the night, Minaj helped out dozens of fans, only stopping when her wallet felt the hit. She promised to do another round of academic assistance in a couple of months, so given Minaj's strict GPA requirement, you better hit the books now.