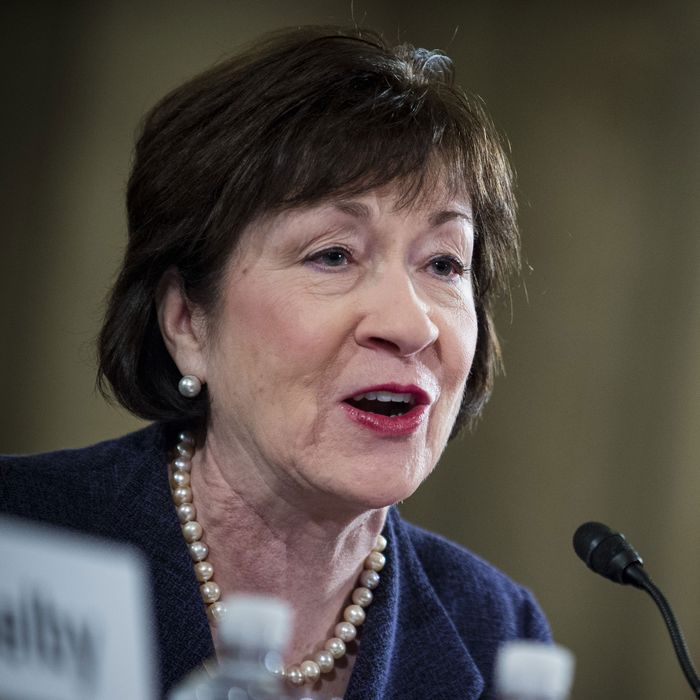 Republican Senator Susan Collins is not part of the working group, despite her experience working on health care and insurance.
Photo: Pete Marovich/Bloomberg via Getty Images
Last week, the Republicans passed a health-care bill that, although it says insurance providers can't discriminate based on gender, has the potential to disproportionately affect women. The bill is now under review in the Senate, where senators are "starting from scratch," according to the New York Times. The group working on the bill is made up of 13 senators whose ideology runs from ultraconservative to moderate, but critics have noticed an important detail: It doesn't include a single woman.
"The leaders have the right to choose whomever they wish," Republican Senator Susan Collins — one of the 21 women currently serving in the Senate — told the Times on Monday. "It doesn't mean that I'm not going to work on health care." Collins opposed the American Health Care Act because she thought too many people would lose coverage under it; she and Senator Bill Cassidy of Louisiana introduced their own health-care bill in January that's largely been ignored by GOP leadership.
"I've worked on health care for many years," Collins continued. "I spent five years in state government overseeing the Bureau of Insurance many years ago, and I think I can bring some experience to the debate that will be helpful."
Other Democratic women senators were much more direct. "It's offensive and it's troubling that there are no women [in the group]," Senator Kirsten Gillibrand said on The View. "Women do have a lot to lose." Others have spoken out on social media:
The Senate's version of the bill isn't likely to be introduced — much less voted on — for at least a couple of months. Until then, we'll just have to wonder how the 13 men in charge feel about maternity coverage.