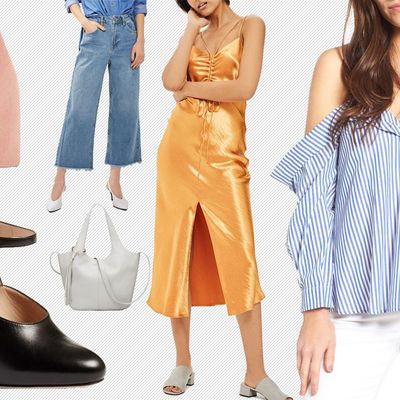 If you somehow managed to walk away with money in your pocket even after the huge Net-a-Porter, Barneys, La Garçonne and SSENSE sales this week, then you're in luck, because Nordstrom is getting in on the discount action. Their annual half-yearly sale started yesterday and will run through June 4. Unlike the others, this one is more friendly on your wallet. With affordable labels like Topshop and Madewell as well as designer brands like Gucci (which is rarely on sale) and Manolo Blahnik, most pieces are up to 40 percent off. The selection is huge, so we narrowed it down to our favorites. From a crisp white bodysuit to a slinky slip dress to an off-the-shoulder top Michelle Obama would love, scroll below to shop our picks.
Gucci is rarely if ever on sale, so use this opportunity to splurge on a piece from the brand. These are right in line with the Gucci's granny-chic aesthetic, so don't be afraid to wear them with loud prints and quirky accessories like wire-rimmed glasses.
Whether you're staunchly pro ugly-cool pants, or just jumped on the bandwagon, now you can get a pair for much less.
Photo: afront
The discount here is not amazing, but the Gazelle is slowly becoming fashion's "it" sneaker.
A breezy summer dress has always been my seasonal go-to when I'm too lazy to bother with complicated styling. You can throw on sneakers (like the Adidas Gazelles) or pair it with wedges, depending on the occasion.
Ever see one of those impeccably chic women carry a bag by its straps like they're grabbing a handful of flowers? You can do that with this one.
The pleated detail and color blocking make this look expensive.
If you still don't have a slip dress, you're missing out: Throw a jacket over it for a day out with friends, and dress it up with fancy earrings for date night. This color is an unexpected burnt orange that adds a golden glow to the skin.
If Michelle Obama is any indication, dramatic off-the-shoulder tops like this are here to stay. Here's one to dress up a pair of white summer jeans.
Photo: ReneCervantes
If you don't want to go the straw bag route, here's another way to interpret the summer bag — go for a pale-blue leather style, like this easy-to-carry, tote-satchel hybrid.
So you're the unlucky soul who's stuck with overly aggressive air conditioning? Here's a stylish light layer you can keep on that won't throw off your entire outfit like that ratty sweatshirt at your desk.
Many fast fashion brands have some sort of variation of this style on sale right now, but nothing beats a French original. They're also perfect for hiding a less than fresh pedicure.
If you buy something through our links, New York may earn an affiliate commission.