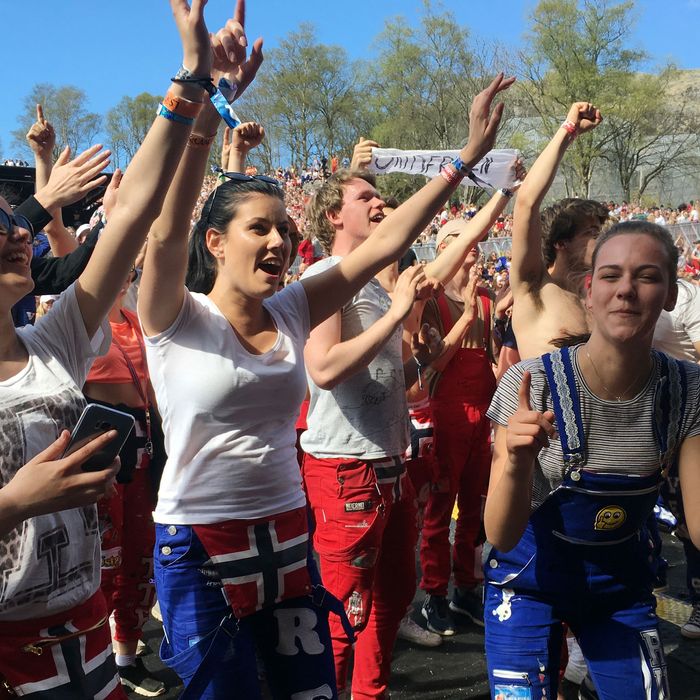 How do you say "woooooo" in Norwegian?
Photo: Mark Lewis/AP
Earlier this year, we learned that MTV would be bringing back My Super Sweet 16. Because the nation apparently cannot get enough entertainment centered on out-of-control teens throwing extravagant parties, we suggest that they look to Norway for their next series inspiration.
The Associated Press spent time with Norwegian teens about to graduate from high school and the story has everything: party buses, techno, patriotic outfits, drunken revelry, inevitable injuries, and dramatic quotes about seizing your youth.
The celebrations are called russefeiring, the teens themselves are the russ. The partying lasts an entire month until May 17, which is Constitution Day. And while it's been happening in some form or another since Norway gained independence, in 1905, it's just gotten more over the top as of late.
One highlight of the russefeiring month is a three-day festival at the Kongeparken theme park (like Burning Man, but with socialized medicine!), during which teens arrive in massive, hilariously customized buses:
They often are kitted out with newly upholstered sleeping space for 20, laser lighting systems and speakers blasting bass so loud it makes your beer jump out of its glass.

Each bus has its own rap and techno tracks, sometimes as many as five, that cost up to 100,000 NOK ($12,000) each. With the cost shared between 15 and 25 students, the most expensive buses can run up to 3 million NOK ($350,000). The standard budget is just north of 1 million NOK ($116,000).
Here are some of these buses, perhaps with a $12,000 Norwegian techno track included:
And some teens dancing to techno in a circle:
Should MTV be looking for some boastful sound bites, there's Fredrik Helgesen, who said, "In the American movies, we get the impression that they are so crazy. But we have the craziest celebrations here in Norway." Or perhaps Eyoub Yemane, who mused, "I would say you only do this one time. You are only allowed one time, so do it right when you graduate because you never go back here. Never."
Plus, Min Super Søt Russefeiring has a nice ring to it.