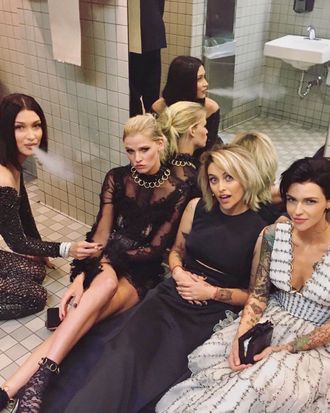 Bella Hadid and friends at the Met Gala.
Photo: Courtesy of Twitter/victuuris95
Like any good party, the real action at this year's Met Gala took place in the bathrooms, where celebs like Bella Hadid, Dakota Johnson, and Marc Jacobs spent the evening taking selfies and brazenly flouting the city's indoor-smoking ban. Museum donors were quick to condemn the celebs for their "disrespectful" and "insulting" conduct, and now the NYC health department is following suit.
According to the New York Daily News, city health commissioner Dr. Mary Bassett penned a scathing letter to museum officials warning of the dangers of second-hand smoke and criticizing the event's high-profile attendees for making smoking look so darn cool (we're looking at you, Dakota Johnson).
"This spectacular event awes us all," Bassett wrote. "We were dismayed to read reports that some celebrities chose smoking as their fashion accessory and flagrantly violated New York City's smoking laws."
She also expressed concern with the proliferation of these images on social media. "When young people see glamorous stars smoking and flouting the law, it undermines the progress that has been made in de-normalizing smoking and increasing awareness of smoking's health risks," she wrote, offering to send inspectors to next year's event to "improve compliance."

If only guests had respected the sanctity of Anna Wintour's selfie ban, this never would have happened.