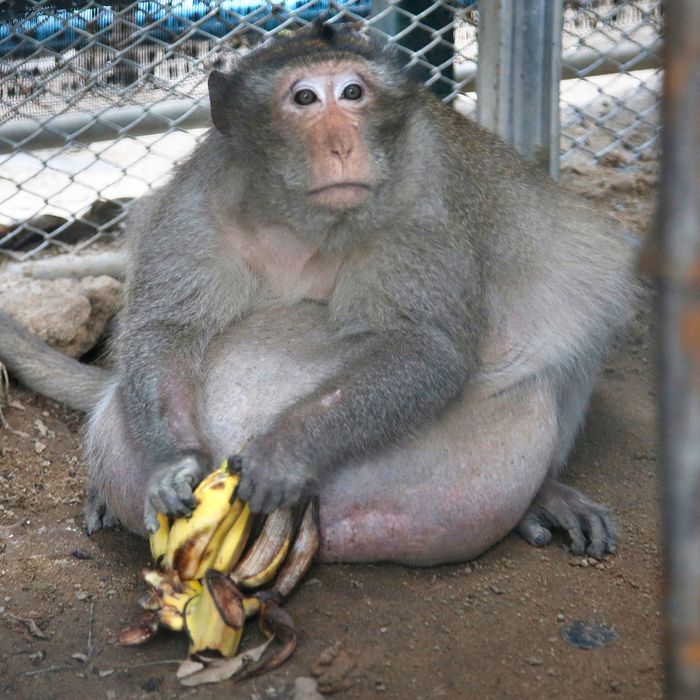 Uncle Fat, starting his new diet.
Photo: Copyright 2017 The Associated Press. All rights reserved.
Uncle Fat, an obese macaque monkey from Thailand, has been forcibly placed on a summer diet following his capture. Weighing in at 60 pounds (his species tends to average at 20), wildlife officials attribute his size to humans feeding him excess junk food. Now he's doing some sort of Paleo thing and he looks appropriately miserable, least of all because he doesn't have the thumb dexterity needed to enter his calories into MyFitnessPal.
But he wouldn't go on the diet without a fight, officials told the Guardian:
"It was not easy to catch him," said Kacha Phukem, the wildlife official who conducted the capture and rescue on 27 April. "He was the leader of his pack, and when I tried to go in, I had to fight off a flock of them with sticks."

The subordinate monkeys fed into Uncle Fat's bad habits.

"He had minions and other monkeys bringing food for him but he would also re-distribute it to younger monkeys," said Supakarn Kaewchot, a veterinarian in charge of the monkey's diet.
Stay strong, Uncle Fat.