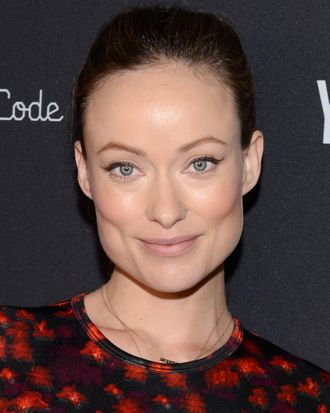 Photo: Theo Wargo/Getty Images for Global Citizen
Both of Olivia Wilde's parents were Washington, D.C., journalists, so it should be no surprise that the actress is passionate about her politics, even when it comes to the politics of "natural" beauty. After being the face of Revlon, Wilde's newest gig is being chief brand activist for True Botanicals, a "natural" beauty line that Unilever acquired a minority stake in last month. The Cut talked to Wilde and Christina Mace-Turner and Hillary Peterson, True Botanicals' co-founders, about how politics affects "natural" beauty regulation, its surprising clinical results compared to La Mer, and the "shit" she got about her #NoMelaniaHair hashtag.
So you were with Revlon for many years and now you're the chief brand activist of True Botanicals. How did that happen?
OW: I'm very proud of that title. It means my partnership goes beyond just being the face, in being a partner and telling the story in different creative ways. I'm looking forward to helping consumers understand not only the products themselves and the experience in using them, but how they're made, the supply chain, the ingredients, down to the packaging. If you're the face of the brand, it's not really even asked of you. They don't expect you to have an interest in any of those things. It's an entirely different experience.
With Revlon, it wasn't jumping ship from one to the other. My relationship with Revlon ended in an organic, peaceful way. It was a fascinating experience to be part of a large brand. I learned a lot about the beauty industry through it. There was that space in between where I thought, I don't know if I will do anything like that again. I was even interested in creating something myself. I thought I was going to have to create a True Botanicals.
Who is going to make an effective nontoxic alternative? Who is going to make a company that is completely transparent and uses sustainable materials? Who is going to do all that and make it effective? I was learning that was needed, but wasn't finding the product itself.
When it came along, I thought, Thank God, I don't have to build this myself. I just wanted to be a part of it. It really genuinely feels like being part of a movement.
Why is there a need for it?
OW: It just doesn't exist. This is the only high-end natural skin care that actually works. We all try these things all the time. Nothing had been effective enough for me. And if it was, I would look deeper in the ingredients and find that it wasn't good enough. You'd find the packaging would be in plastic, even though it had a solid ingredient list. Or you realize it's owned by a much larger company that has terrible toxic brands as well. I felt the need was clear and friends of mine, especially those who were mothers and trying to become more cognizant of what they were using, were looking for it too.
Apart from the desire to be natural, in getting older, I wanted to find something that was going to preserve our skin. Suddenly the concern about anti-aging popped up. Honestly, I didn't think at 33 I was going to want to look for the best anti-aging product.
We no longer have to accept that we will age so terribly by 40 that we're going to have to get something done to ourselves. We also don't have to assume that if you want to preserve your skin, you have to use chemicals. It's a great time to be alive and be a woman. You deserve to use stuff that's better for you. At this point, it might take a little more research.
What made you become interested in natural beauty?
OW: Just because I'm a curious person. If you're someone that thinks about what kind of food you eat, then why wouldn't you think about your skin? It just felt logical. Of course I don't want to accept that my beauty products should be toxic. I don't want to accept my food should be toxic. Becoming a mother intensifies it. I'm a smart woman. I'm thoughtful about the the things I surround myself with, so why wouldn't I be thoughtful about skin care?
How do politics affect "natural" beauty?
OW: People assume there is regulation where there just isn't. That comes from blindingly trusting that the government is protecting them. The EU has banned over 1,300 ingredients and the U.S. has banned less than 20. That's staggering. The reasons behind it are entirely political. I think it's shocking and outrageous. It's something women have to regulate for themselves.
Christina Mace-Turner (True Botanicals co-founder): Basically, there are lobbyists for big pharmaceutical companies and skin-care manufacturers who push to limit regulations so they can make the products they're making. Ingredients which tend to be toxic are less expensive.
Hillary Peterson (True Botanicals co-founder): There's also a lot of companies built off a false notion that you need the toxins actually to have efficacy. That's a lie. That's political, the fact that manufacturers could mislead people that way and without regulation to stop that. It makes you incredulous.
A lot of natural beauty critics are skeptical because despite talks about "toxicity," the dermatological community doesn't appear to be an advocate.
HP: Think about the ties to food, medicine, and wellness. The intersection between wellness and Western medicine today is the same path taken by skin care. It's starting to happen. It's evolving. Right now, the revolution is really just beginning.
OW: This is being part of a company that's not only offering a natural alternative, but also showing that it will work better than the toxic stuff you were putting on your face. The independent clinical trials for True Botanicals beat La Mer in terms of anti-aging and even Proactiv in fighting acne with its Clear line. Even if you don't care about natural beauty, that's an argument a lot of people respond to.
CMT: It's important for us to do clinical trials to prove the science. People need proof. They need a frame of reference.
OW: True Botanicals' Made Safe certification is also really unique. Once I learned about that, I thought, How can you trust a company that doesn't have that? I was joking, comparing it to how in New York, everyone has a sign that says "Best pizza in New York," but it's not real. The Made Safe certification puts this brand far above others.
Also, a dermatologist is often giving you a product with the harshest chemicals possible, for immediate results. This takes a little more consistency. It feels good immediately. But in transformation, it could take a couple days or even a month. It's like eating one salad isn't going to make you healthy.
In talking about politics, I wanted to ask about your Instagram post from a few months ago with the hashtag #NoMelaniaHair. Was that a purposeful political stance?
OW: I got so much shit for that. That was a joke. People got angry I wasn't supporting our First Lady. But she's not my First Lady and he's not my President. I don't take them seriously. It's nothing personal against Melania. I was angry. I'm emotional. I'm still emotional and heartbroken by the whole thing. That's what it came out of.
I'm very honest in my social media. I don't filter, that's why people know they can trust if I say something, I really mean it. That's why I enjoy talking about things I'm really passionate about. You know I'm not BS-ing you because if I was, I would avoid getting in trouble for things like that.
Truly, I enjoy being honest with people. Not everyone may agree with me, but they will know I'm being honest.