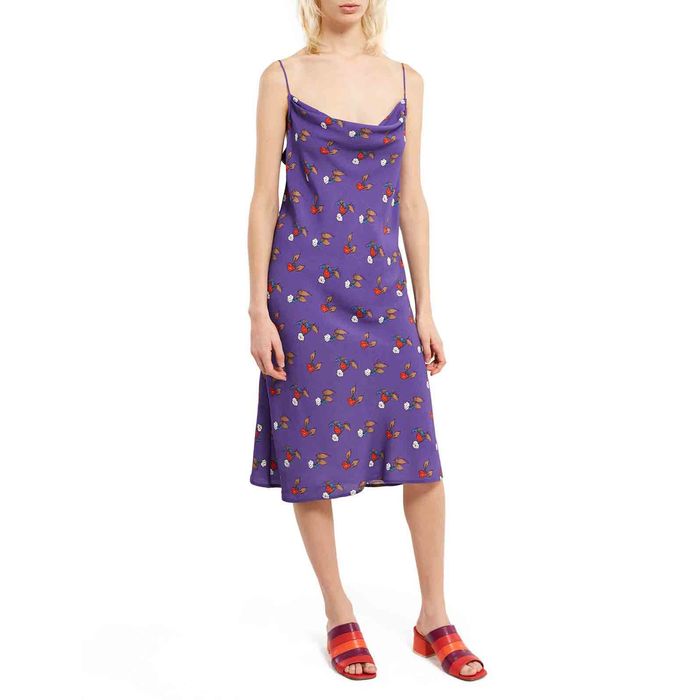 My idea of afternoon tea is a steaming cup of Berryblossom White Tazo purchased for $3 at my local bodega and poured inside an embarrassingly juvenile pig-faced mug I bought on Amazon. In other words, a far cry from the posh and ceremonial affair of splashy spots like the Russian Tea Room, where waiters bring out rounds of scones and mini sandwiches piled high on polished three-tiered platters and the tea is actually served loose, not in packets.
The sheer glamour of it all has intensified my fascination with tea dresses; those lovely printed knee-length frocks often made with light, delicate fabrics that were popular in the 1940s and '50s. Nowadays people wear them for their nostalgic appeal, but I just think they're really fun and pretty. I've browsed through a lot since deciding to get one this spring, but none have captured my attention like this one from Opening Ceremony.
So many things separate this tea dress from the mass of floral, often too-lady-like pieces on market. There's the decadent shade of purple that's a cross between lilac and plum, the slightly cleavage-enhancing cowl neck, and the slimming slip-dress silhouette. It captures the feminine essence of a traditional tea dress, but the print, featuring emoji-like hands holding roses, has a modern, Gen-X twist. Finally, I love that it's sleeveless; I can wear it when the weather starts to feel like Dante's Inferno without worrying that I'll sweat through it. $350 for dress is a big expense for me, so I've already planned to layer the hell out of it over sweatshirts and turtlenecks to extend its wearability into the colder seasons.

If you buy something through our links, New York may earn an affiliate commission.