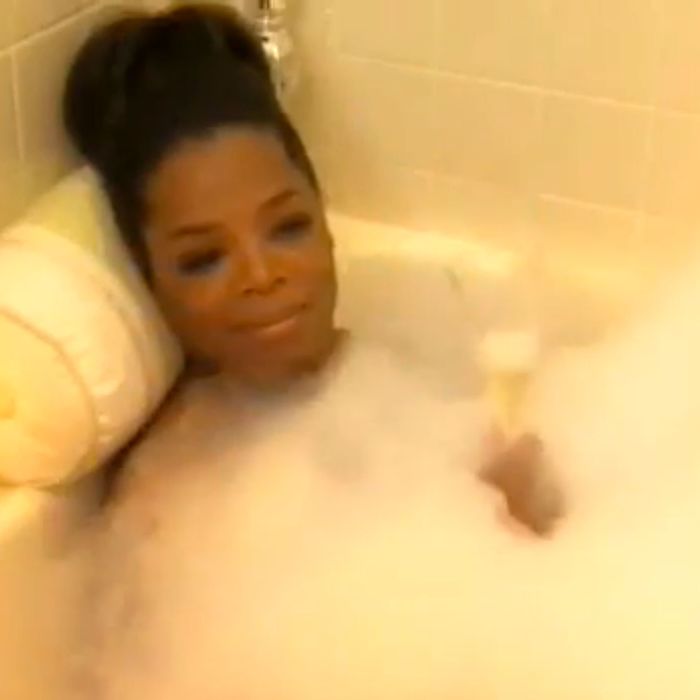 Oprah being Oprah, in a bathtub.
Photo: Courtesy of ABC
Just as you wouldn't challenge a tennis pro to a match before subscribing to a few lessons first, you wouldn't launch a bath collection without consulting Oprah. Them's the rules, so that's exactly what SoulCycle senior instructor Stacey Griffith did before introducing her "spiritual bath products" to the world, WWD writes.
Oprah, who blithely equates bathing to an "art form," was privy to the bath collection after traveling with Griffith in 2014 for the entertainment titan's The Life You Want tour. "I made her the very first spiritual bath kit with Brunello Cucinelli hand towels, a bath gel I created with a company called Mixture, Epsom salts, magnesium, caramels from a CBDG gift box, incense from India and holy water from the mission in Carmel [San Carlos Borroméo de Carmelo Mission]," Griffith told WWD. "I handwrote a note to Oprah, saying, 'Here's how you do a spiritual bath.' When she got this spiritual bath box, she was so moved, because what do you get for Oprah? I was so blessed to have done that tour with her and I knew she liked taking baths. She left me the sweetest message on my voicemail and I'll save it forever."
People who are not named Oprah can expect a slightly different version of Griffith's spiritual-bath line when it launches next month. A muscle soak, bath gel, bath oil, and candles round out the collection. No word on pricing, but if the Michelangelo of baths loves it, you know it'll be worth every penny.