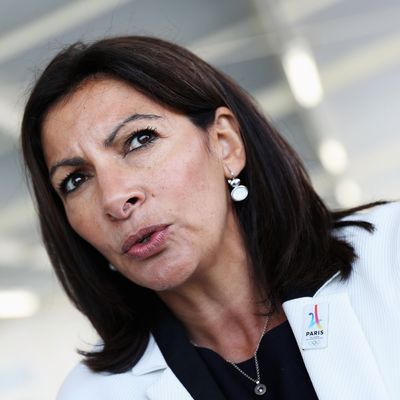 Anne Hidalgo.
Photo: Ker Robertson/Getty Images
An Afro-feminist group called the Mwasi Collective is planning to host a festival in Paris, France from July 28 through the 30th — an event that the city's mayor, Anne Hidalgo, has criticized for "discrimination."
80 percent of the space at the upcoming Nyansapo Festival will be for black women only, a fact that initially began to circulate among far-right social-media accounts, France 24 reports. Next, the International League against Racism and Anti-Semitism issued a condemnation of the event on Twitter too, writing, "A festival 'forbidden to whites': Rosa Parks must be turning over in her grave. The anti-racism struggle has become an alibi for a rising nationalist identity."
By Sunday, Hidalgo publicly came out against the festival in a series of tweets that began, "I firmly condemn the organisation in Paris of this event 'forbidden to white people.'" She also called for a ban of the festival and suggested suing the founders for discrimination.
Soon after, it became clear that the parts of the festival that were only open to black women were being held in private spaces, while the parts open to everyone would be in public, city-owned areas — meaning, per France 24, "the City of Paris would have had no jurisdiction over who could and couldn't attend." Hidalgo then returned to Twitter to say that she had personally staged a "firm intervention" and found a "solution" to the issue.