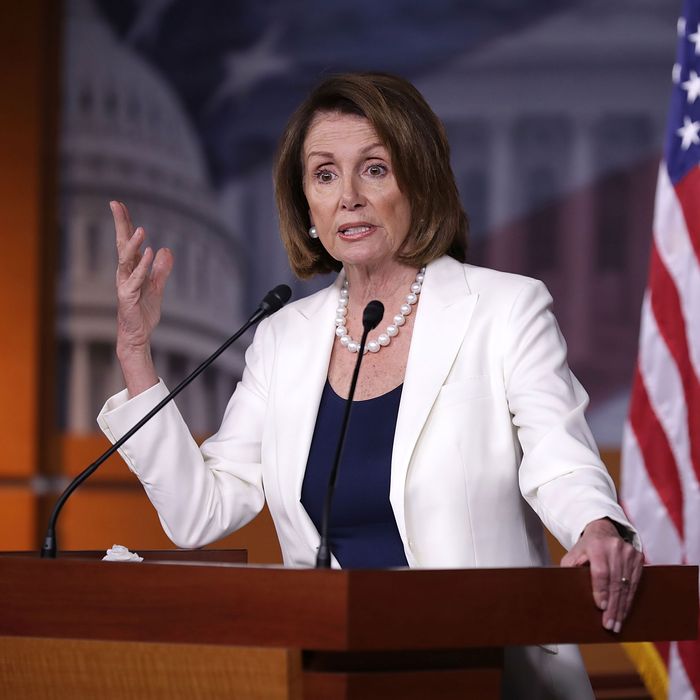 Nancy Pelosi suggested Democrats should ease up on abortion.
Photo: Chip Somodevilla/Getty Images
Earlier this month, Senator Bernie Sanders and DNC head Tom Perez gave a "unity tour," during which they suggested abortion rights were a disposable part of Democratic ideology — later, Sanders added that stumping for anti-choice candidates is the kind of thing Democrats need to do "if we're going to become a 50-state party." And on Tuesday, House Minority Leader Nancy Pelosi added to that, telling the Washington Post that the party should be open to anti-choice candidates.
"This is the Democratic Party. This is not a rubber-stamp party," Pelosi said. She added, as Sanders implied in January, that abortion access isn't a central part of Democratic ideology: "In our caucus, one thing unifies us: our values about working families. Some people are more or less enthusiastic about this issue or that issue or that issue. They'll go along with the program, but their enthusiasm is about America's working families."
And she went even further, blaming Hillary Clinton's loss on Democrats' focus on social issues like marriage equality and abortion rights:
"You know what? That's why Donald Trump is president of the United States — the evangelicals and the Catholics, anti-marriage equality, anti-choice. That's how he got to be president," she said. "Everything was trumped, literally and figuratively by that."
As New York's Rebecca Traister pointed out, these comments from key Democrats are actually coming at a time when public support for abortion is relatively high — according to the Pew Research Center, 57 percent of adults think abortion should be legal in all or most cases, and the vast majority of Democrats (74 percent) agree. Even among moderate and liberal Republicans, the majority — 55 percent — say abortion should be legal.
What's more, Dems' apparent willingness to compromise on abortion access — an issue that's intrinsically linked to women's economic well-being — seems to overlook women's unprecedented involvement in the progressive movement. "Open your eyes to where the resistance is really coming from," Ilyse Hogue, head of NARAL Pro-Choice America, told the Cut. "There are literally millions of women who have been pouring calls into Senate offices, House offices, going to town halls, filing to run for office; we are literally three months out from the largest protest in U.S. history that was overwhelmingly women, in the name of women; that's where the resistance is. This is the Democratic party base. So why is the place to start negotiating the place that pulls the heart out of the resistance?"