Look Back at Vivian Maier's Photographs in a New Fashion Exhibition
Photo: ©Estate of Vivian Maier/Maloof Collection, Courtesy Howard Greenberg Gallery, New York.
Street photographer Vivian Maier (1926–2009) has been described as "part Mary Poppins, part Weegee." Her compelling photos are compounded by her elliptical personal history: Born in New York City to a French mother and Austrian father, she spent part of her childhood in France and then worked in Chicago as a nanny for the majority of her life. On her off time, however, Maier was a fervid and sharp-eyed photographer, capturing urban American life for over five decades. It was a wholly covert role — even to those who thought they knew her. She left behind a vast archive of over 100,000 negatives that she never showed to anyone.
Her posthumous legacy has become as legendary as her images: The photographer's unknown body of work came to light after it was purchased at auction in Chicago in 2007 (from a storage locker with delinquent payments; Maier was "a first-class shooter and world-class pack rat") and then put online. A 2013 documentary about her life reveals her only to be more, rather than less, enigmatic. The New York Times film critic Manohla Dargis wondered "if she was an outsider artist or just an unorthodox one who, as a single 20th-century woman, found freedom, her voice and her own private bohemia while under cover of other people's bourgeois domesticity."
Opening today through May 20, more than 30 photographs by Vivian Maier (shot between 1950 and 1978) will be on view at Howard Greenberg Gallery in New York. The five-day exhibition dovetails with the Swiss label Akris's pre-fall 2017 collection, featuring designs that channel the spirit of the photographer and adapt several of Maier's visuals as prints. The collection, described as an homage to Maier, celebrates "her eye, her excellent technique, and her unwavering passion to pursue an artist's life every day," says Albert Kriemler, creative director of Akris. The collection will be available at Bergdorf Goodman in New York, including a display in the Fifth Avenue window.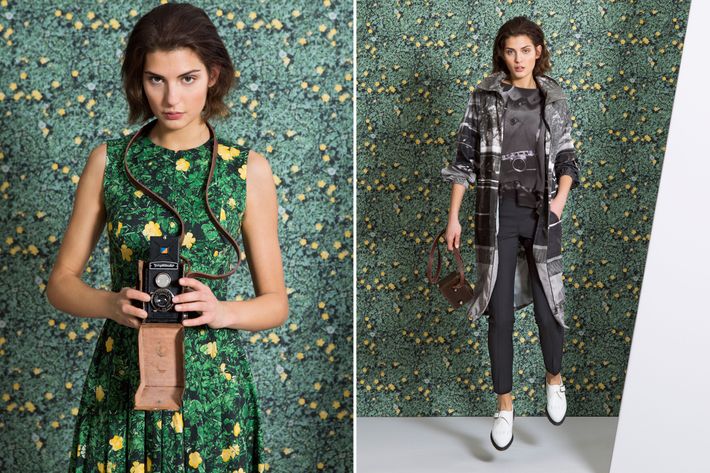 Maier often took "self-portraits" of her shadows; she also shot her reflection in store windows, sometimes obscuring her face with her camera, turning herself into a featureless silhouette. Kriemler describes Maier's sly approach of integrating herself in her work as "a visible presence, but not really interfering." This role holds true of the fashion designer too.
The model in the Akris lookbook is styled with a vintage German Voigtländer box camera, and the fabrics draw from specific Maier images. "To choose the right spot for the shadow on every item is part of the meticulous pre-planning and sometimes mathematical work we do for the integrity of the artwork," Kriemeler says. For example, Maier's camera, seen in a mirrored reflection within one of her frames, becomes a trompe-l'oeil graphic on a shirt — and "a nod to the 'female gaze,'" Kriemler adds. "I also could not stop myself from relating her work to today's selfie obsession." Another image — a 1975 chromogenic print of a floral lawn looming with Maier's shadow — was attractive to Kriemler because it "conveys the idea of beauty without naïveté." The bright buttercups and lush green became the basis for a shift dress, a chemise, a jacket, and a peekaboo layer behind the cutouts of a black leather handbag.
Kriemler began working with photo-print technology in 2006. "When I collaborate with living artists, I challenge myself not to just depict their work on fabric — Yves Saint Laurent has done that already in the '60s and '70s — but to translate it with full respect for the artist into a new medium that lives on a woman's body," he says. Along the same lines, Akris's current spring/summer ready-to-wear collection of colorful prints and elongated graphics is directly inspired by the abstract expressionist painter Carmen Herrera, who only began gaining recognition as a nonagenarian. "I seem to have a thing with underappreciated female artists," Kriemler notes. "Likewise, Vivian Maier was one of those artists who work every day at the highest level of art," the designer says, "whether the world takes notice or not."