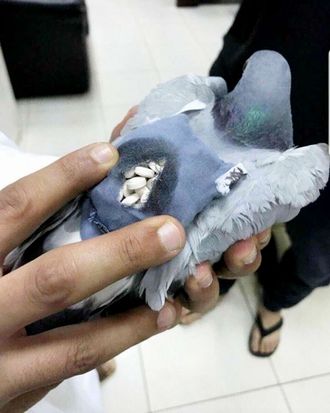 Busted.
Photo: Courtesy of Twitter/CassLowe
A pigeon with a tiny backpack full of drugs, presumably on his way to the best rave ever, was apprehended by Kuwaiti customs agents when he crossed the border from Iraq.
According to Al Arabiya, the little guy was caught at the Kuwaiti border with 178 tiny pills strapped to him. (Using pigeons to traffic drugs is nothing new, but this little backpack, in particular, is an adorable method.)

The pigeon, who's trying to make it as a model/DJ in his downtime, was pretty bummed that his party was ruined.