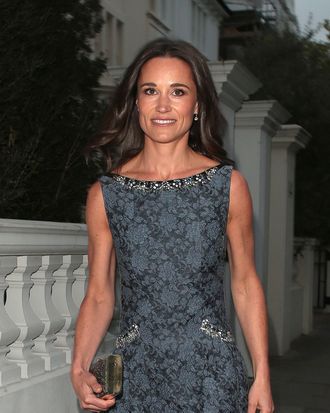 Photo: Ricky Vigil/GC Images
Pippa Middleton is not leaving anything to chance when it comes to her wedding next week. From her guest list — hi, Meghan Markle! — to her request that guests bring two outfits apiece, Middleton is veddy, veddy serious about her big day. Naturally, that extends to her diet and exercise regimen as well. In addition to following the intensely restrictive Sirtfood Diet, she's reportedly been doing a three-month boot camp for brides at the posh Grace Belgravia health club.
According to E!, the bridal package "typically include[s] a personal trainer, skincare and leg toning treatments, plus yoga, pilates, spinning, cardio training, dance and meditation classes. The club also offers to arrange home deliveries of specialized healthy meals." It also comes with all sorts of beauty treatments, from lasers to the ominous-sounding "IV therapies," although E! reports that it's unclear whether or not Middleton has taken advantage of these services.
In April, Middleton was photographed leaving the KX gym after over an hour of pilates; the gym coincidentally has a Sirtfood Diet–friendly restaurant on the premises. The question remains, of course, whether or not these leaked details are the IRL version of sponsored content or just a series of questionable "health" regimens.