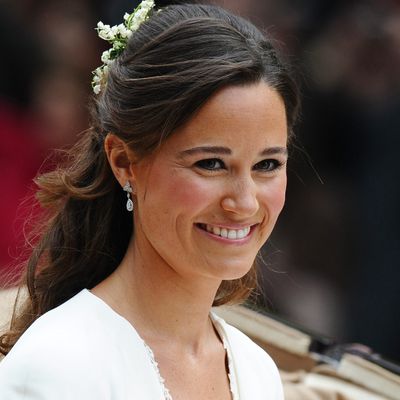 Pippa's big day is finally here.
Photo: 2011 AFP
After weeks (months? years?) of anticipation, the day we've all been waiting for is finally here: Pippa Middleton is marrying British man James Matthews on Saturday. The semi-royal affair (as she is royal-by-proximity instead of actually royal) is set to to happen in Berkshire, England, with a number of British stars in attendance, from her sister Kate Middleton to her fiancé's bad-boy reality-TV-star brother Spencer Matthews. From who's designing her dress to where the wedding's famous attendees will be going to the loo, here's everything you need to know about Pippa's big day.
First off, who's getting married?
Good question. On the one hand we have Pippa Middleton, a British socialite and erstwhile party-planning book author who became a household name when she served as a bridesmaid at her sister Kate Middleton's wedding to Prince William six years ago. And on the other, there's James Matthews, a British man who, like every guy you see on Tinder, works at a hedge fund. There have been reports that James is incredibly wealthy, but Celebitchy hypothesizes that he is actually only moderately wealthy (he's still richer than the rest of us, so good for him). The pair reportedly briefly dated in 2012 before giving their romance a second (and more successful) try in 2015.
When and where is this wedding happening?
The ceremony will be taking place at St. Mark's Church in Berkshire, England, and the reception will follow at the Middleton family estate in Bucklebury. The reception will take place in a glass castle (yes) that was temporarily constructed on the Middletons' property, where guests will go to the loo in luxury portable bathrooms that look nicer than anywhere you've ever peed in your life.
Who will be attending this semi-royal affair?
Several royals and royal-adjacents will be in attendance. Pippa's royal sister Duchess Kate will be there, along with her royal husband Prince William, and their royal children Prince George and Princess Charlotte. Kate's royal brother-in-law Prince Harry will also be there, with his non-royal girlfriend Meghan Markle, who Pippa is graciously allowing to attend both the ceremony and the reception, despite a strict "no ring, no bring" rule that's in place. James's brother Spencer Matthews, star of British reality show Made in Chelsea, will also be in attendance, though his girlfriend, model Vogue Williams, is reportedly being denied entrance to the ceremony under the aforementioned "no ring, no bring" rule. Oh, and of course, every single parishioner of St. Mark's Church will also be making an appearance at Pippa's wedding, because they're all technically allowed to attend the ceremony under a new Church of England guidance on celebrity weddings.
What do we know about Pippa's dress?
Exact details of Pippa's wedding dress are unknown, but people seem to think that designer Giles Deacon is designing her gown, specifically because he was seen at her house in London with a giant garment bag, which is a great clue in my opinion. But while nothing is confirmed, a "source" close to the design team told E! News that the dress is "very simple, elegant and it's all handmade," which sounds nice.
And what are the other high-profile attendees wearing?
Apparently Meghan Markle specifically picked out a dress that Kate Middleton is not wearing (smart), and Pippa is reportedly insisting that people attending the ceremony change into a new outfit for the reception, so many guests will be donning at least two separate looks.
How has Pippa been preparing for her wedding?
Like many brides, Pippa has been gearing up for her big day by following an incredibly restrictive diet and participating in a bridal workout bootcamp. In a seemingly staged move, Pippa was pictured leaving an hour-and-15-minute Pilates class at an "exclusive" London fitness center called KX gym a few weeks ago, alongside a report that she was adhering to the SirtFood Diet — which essentially involves calorie-restriction, juices, and only eating 20 different types of food — in preparation of her wedding. Soon thereafter came another report about her pre-wedding prep, stating that she's been doing a three-month boot camp for brides at the posh Grace Belgravia health club.
And finally, how can I follow the wedding at home?
As Pippa's semi-royal wedding is not actually royal, her ceremony won't be broadcast live on TV like her sister's. But we're sure a torrent of pictures from Pippa's wedding will be flooding the British and U.S. tabloid websites all day Saturday, so be sure to check there for up-to-the-minute blurry long-lens pictures. Maybe you can wear your fanciest fascinator and drink a Pimm's Cup or two or five as you follow along.