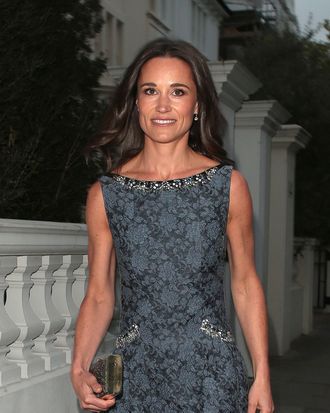 Pippa Middleton.
Photo: Ricky Vigil/GC Images
If there's one thing we've learned about Pippa Middleton in the weeks leading up to her May 20 wedding, it's that she apparently loves rules. First, there was the "no ring, no bring" rule that precludes guests from bringing ring-less plus-ones to her ceremony (except for Meghan Markle, as it turns out). And now, the Telegraph reports she's instituted a two-dresses-per-guest rule. What?
In a move that even Vogue declares to be "slightly high-maintenance," Middleton has asked guests to bring two outfits to her nuptials to British man James Matthews. The first outfit will presumably be worn at the church ceremony in Berkshire, which basically all of England is planning on attending at this point, and the second will be worn at the wedding reception at her parents' house.
News of this rule serves as a satisfying end to an earlier detective mission we briefly embarked on (and immediately gave up). You see, E! News had reported earlier in the week that Markle already had two separate dress fittings for the wedding. Procuring two dresses for her boyfriend's sister-in-law's sister's wedding sounded like a bit much to us, but now that we know she actually needs two dresses, it all makes sense.
No word yet on whether this two-dresses-per-guest rule is an actual wedding trend or just a Pippa-specific thing (Vogue says "only time will tell" on that front), but we do wonder where guests will change and where they will be able to store their other outfits. We can only assume the wedding will provide some sort of secure locker-room situation, like at all the nice gyms.