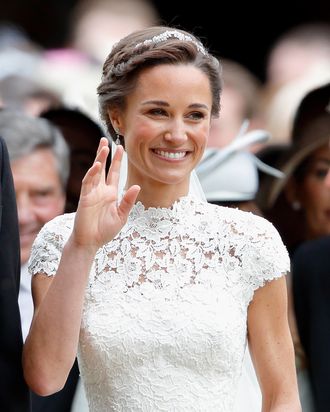 Pippa Middleton didn't leave anything to chance.
Photo: Max Mumby/Indigo/Getty Images
Let's hope Meghan Markle was prepared for the intensity of Pippa Middleton's wedding reception, which reportedly required a unique password for each guest — and that's just for starters. According to E!, the passwords were picked three months ago, and each guest had to have a photo ID. However, given the high-flying details of the reception, it's no wonder that Middleton's family had it on lockdown.
After the church ceremony, guests headed to the Middletons' swank Bucklebury Village Hall, where they could change outfits and whatnot. Then everyone trekked to the reception, which was held on the Middletons' estate in a glass palace that reportedly cost a cool $100,000. The entertainment included an aerial performance by a Supermarine Spitfire plane, a Beatles sing-along, dancing, and speeches. Their hats were probably spectacular.