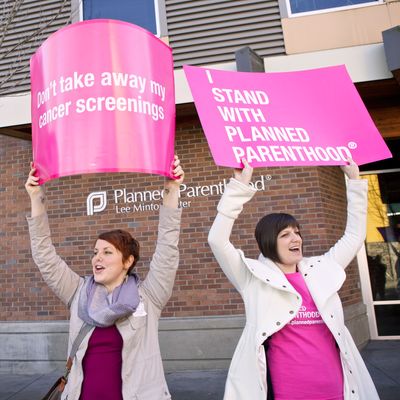 Four Planned Parenthood clinics will close in Iowa.
Photo: Stephen Brashear/Getty Images
On Thursday, Planned Parenthood of the Heartland announced that it would close four clinics in Iowa after Governor Terry Branstad signed a budget bill that blocks state funds from Planned Parenthood and other clinics that provide abortions. Clinics in Burlington, Keokuk, and Sioux City will shut down June 30. A fourth clinic will continue to offer limited telemedecine services after the 30th, but eventually it will close, too.
The closures will leave more than 14,600 women without a primary health-care provider, according to a Planned Parenthood press release. And it's not like they have a ton of alternatives — a Des Moines news station found that, of a list of several clinics a state senator recommended, "one listed at Scavo Alternative High School is the school's nurse's office. Another clinic listed at 12th St. and University Ave. is a dentist's office. A third clinic listed is the Central Iowa Shelter and Services, which is a homeless shelter. Of those three clinics, none provide reproductive medical care and screenings for women."
Suzanna de Baca, president and chief executive officer of Planned Parenthood of the Heartland, told the Des Moines Register that the closures will be particularly hard on young people, poor people, people of color, and rural residents.
Meanwhile, Planned Parenthood representatives say the bill is similar to the one that's currently moving through Congress. "What is happening in Iowa is what we could see across the country if Congress passes this dangerous law to defund Planned Parenthood," said Dr. Raegan McDonald-Mosley, chief medical officer at Planned Parenthood Federation of America.
Iowa's majority-Republican congress voted in favor of the bill, despite the fact that most Iowans are in favor of continued public funding for Planned Parenthood. If the American Health Care Act maintains its current form, the U.S. Congress could do the same.