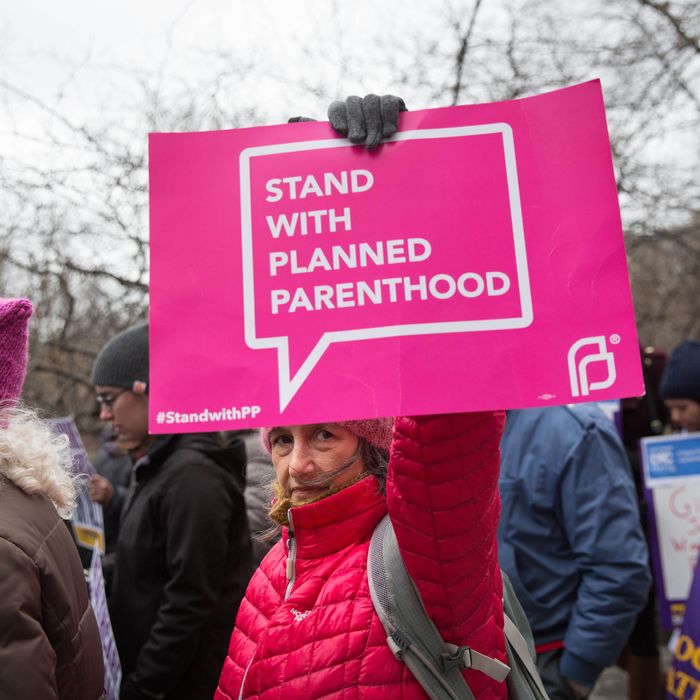 An activist holds a Planned Parenthood sign outside of Trump Tower in New York.
Photo: Kevin Hagen/Getty Images
Late Sunday night, Congress reached an agreement on a spending bill that will keep the government funded until September. And although the Trump administration had hinted the bill could include provisions to fund a southern border wall, crack down on sanctuary cities, and defund Planned Parenthood, Democrats' threats to force a government shutdown seem to have been enough to ensure that more controversial measures were left out. Although the full text of the bill hasn't been released yet, early reports say Planned Parenthood funding is safe — both chambers are expected to vote on the bill this week.
The agreement is largely seen as a win for Democrats, who warned Republicans early on that they'd oppose "poison pill" riders like the one to defund Planned Parenthood. But if Planned Parenthood had been kicked out of Medicaid as part of the spending bill, it's likely GOP lawmakers would've faced backlash from their own constituents.
According to a Kaiser Health poll published in March, 75 percent of the public supports federal Medicaid funding to Planned Parenthood to pay for non-abortion services. And a recent poll conducted by Fox News showed that Planned Parenthood as an organization has a much higher approval rating than either the president or the vice-president.
Despite Planned Parenthood's popularity, President Trump recently signed a bill that lets states withhold Title X family-planning money from organizations that provide abortions. And he recently announced that he'll appoint Charmaine Yoest, a prominent anti-abortion activist, to a top post in the department of Health and Human Services (for reference, this is the woman whose goal was to take down Roe v. Wade state by state).
In other words, as Cecile Richards told HuffPost, the fact that Planned Parenthood polls well "doesn't make up for the fact that millions of women's health care is at risk under Donald Trump. His first 100 days have been incredibly painful for women."