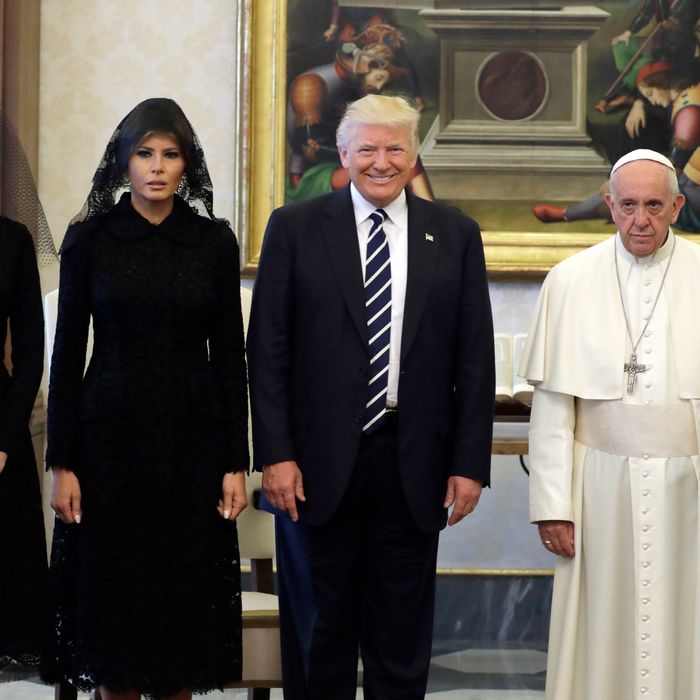 A picture is worth a thousand words.
Photo: Evan Vucci/AFP/Getty Images
It doesn't take a religious scholar to know that Donald Trump and Pope Francis's beliefs don't exactly align.
Of course, nobody knows this better than the Pope himself. During their first meeting at the Vatican, Pope Francis (also known as active Twitter user @Pontifex) took every opportunity to tell the President exactly how he feels.
Exhibit A: The Pope (jokingly) body-shames the president to his wife.
Pope Francis asked Melania through a translator, "What do you give him to eat — potica?" Potica is a nut-filled cake from Melania's native Slovenia. Good — Melania needed a laugh.
Exhibit B: The Pope gives a very subtle gift.
Pope Francis has been an active climate-change activist. So much so, that he wrote the first papal text devoted to climate change in 2015. He gifted a copy, along with two other works, to Trump, who has famously tweeted that climate change is a hoax created by the Chinese.
Exhibit C: The Pope falls silent.
If the picture of the pope standing next to Donald, Melania, and Ivanka Trump didn't send a clear enough message, perhaps the realization that the Pope stood in silence during the pool will.
Trump tweeted that it was the "honor of a lifetime" to meet (and be dragged) by Pope Francis.