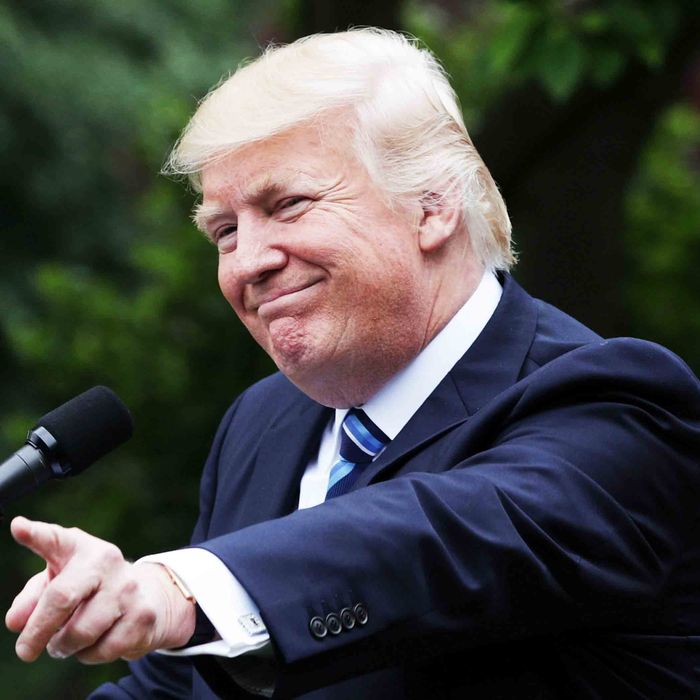 President Donald Trump's White House staff knows what he likes for dessert.
Photo: Alex Wong/Getty Images
President Trump's dietary preferences have been well documented — this is the man who eats KFC on private jets and who replaced President Obama's apples and almonds with Lay's potato chips. And it seems the White House staff is already attuned to Trump's needs; according to a Time report published Thursday, he gets special treatment at mealtimes.
The waiters know well Trump's personal preferences. As he settles down, they bring him a Diet Coke, while the rest of us are served water, with the Vice President sitting at one end of the table. With the salad course, Trump is served what appears to be Thousand Island dressing instead of the creamy vinaigrette for his guests. When the chicken arrives, he is the only one given an extra dish of sauce. At the dessert course, he gets two scoops of vanilla ice cream with his chocolate cream pie, instead of the single scoop for everyone else. The tastes of Pence are also tended to. Instead of the pie, he gets a fruit plate.
I guess when your administration is embroiled in a scandal that could lead to your impeachment, you eat the extra Ben & Jerry's. Diet coke though?