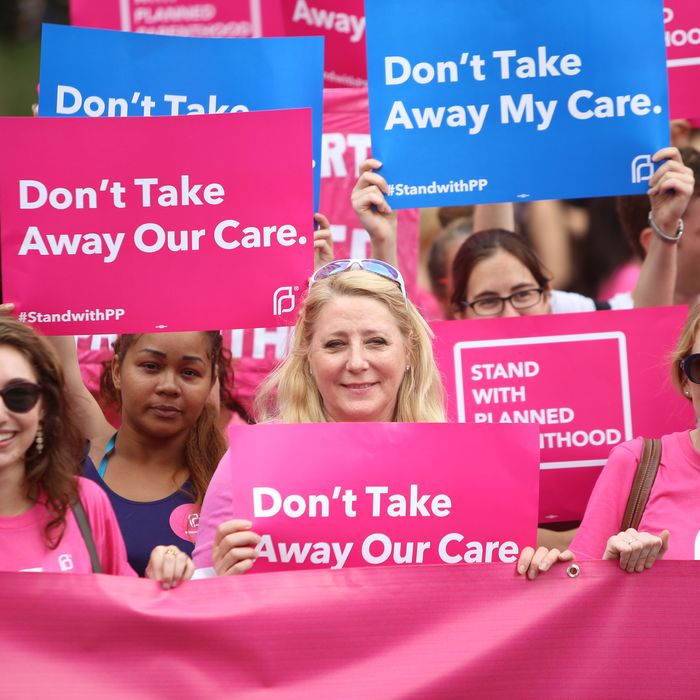 Planned Parenthood wouldn't be able to participate in any federal grant programs under Trump's proposed budget.
Photo: Pacific Press/LightRocket via Getty Images
President Trump's American Health Care Act already cuts back on a huge chunk of Planned Parenthood's government funding. But the president's proposed 2018 budget goes even further, barring the organization from receiving not just Medicaid reimbursements, but any federal government funding at all.
The complete budget was released Tuesday, but an executive summary that was circulated Monday night stated that the proposal "follows through on a campaign promise and prohibits any funding in the Labor-HHS appropriations bill for certain entities that provide abortions, including Planned Parenthood." It goes on to say that "this prohibition applies to all funds in the bill, including Medicaid."
As Mother Jones explains, this means that any organization that provides abortions would be excluded from any federally funded health care program, including Title X family planning grants, which fund reproductive health care; Centers for Disease Control and Prevention grants, which go toward preventing breast cancer and Zika; and Violence Against Women Act grants, which are aimed at preventing sexual assault.
If the budget is approved as is, all this would take effect regardless of the fact that the Hyde amendment (which lawmakers recently voted to make permanent) bars federal funds from going toward abortions. And because about 60 percent of Planned Parenthood's patients use federal programs like Medicaid and Title X to pay for their non-abortion-related health care, this budget means they'd be forced to go elsewhere.
The budget also proposes deep cuts to Medicaid, which disproportionately affects women — almost 40 percent of American women ages 15 to 49 use the program to pay for their health care.
Of course, the whole thing still needs to be approved by Congress, which is reportedly "already wary" of the proposal. It's likely lawmakers will dismantle much of it, but as Axios points out, they'll keep the administration's goals in mind during the rewriting process. And one of those goals appears to be decimating women's health care.