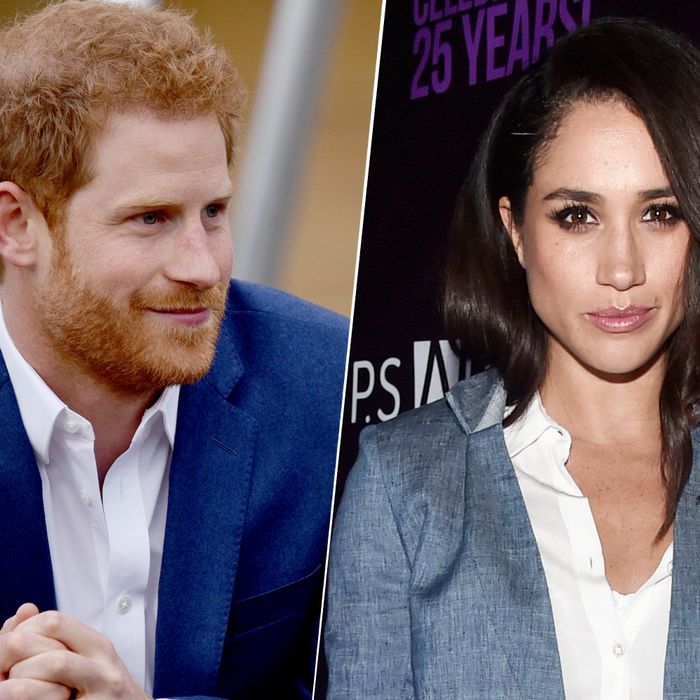 Prince Harry and Meghan Markle.
Photo: Getty Images
All anyone could think during the buildup to Pippa Middleton's recent royal-adjacent wedding was: When is Prince Harry going to propose to Meghan Markle? The ginger prince and his actress girlfriend appear to be quite serious, but as it turns out, Prince Harry is actually taking his sweet, sweet time proposing, because he wants to give Markle a chance to "acclimatize" to royal life first, People reports.
Many expect the couple of nearly a year to be the next royal pair to walk down the British aisle, according to People. Case in point: Prince Harry was reportedly being "the perfect gentleman with Meghan" at Middleton's reception, and he's also apparently "really in love with her." But Prince Harry has previously spoken out about the pressures of dating him — you know, the spotlight, the paparazzi, the wealth and power, etc. — so he's reportedly trying hard not to overwhelm Markle with an engagement yet.
Per People:
According to Majesty's Ingrid Seward, the prince doesn't want to "hurry things" before getting down on one knee. "He wants her to acclimatize to it all," Seward tells People. "It's such a whole different world to move into — there's so much to get used to."
Prince Harry is apparently giving this relationship his "best crack," People adds, so we're sure it won't take Markle too long to get used to being royal.