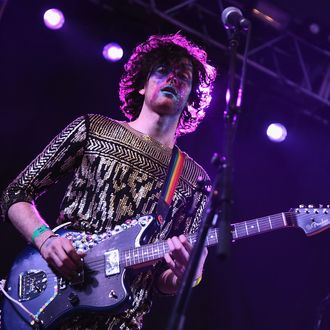 PWR BTTM.
Photo: Michael Loccisano/Getty Images for SXSW
Following allegations of sexual assault and abuse made against queer punk duo PWR BTTM, the band have shared a statement on Facebook addressing the controversy. For context, on Wednesday night, a member of a closed group on Facebook called Chicago DIY accused PWR BTTM's Ben Hopkins of multiple incidents of sexual assault, including against minors, and claims to have witnessed Hopkins (who uses they/them/their pronouns) "initiate inappropriate sexual conduct." The user went on to publicly post screenshots of alleged conversations with other people accusing Hopkins and their bandmate Liv Bruce of sexual misconduct, as well as a photo of Hopkins next to a drawing of a swastika. (Hopkins previously apologized for that photo last December when it first surfaced.)
In their Facebook statement, PWR BTTM say "the allegations come as a surprise, but we are trying to address them with openness and accountability." It continues: "Ben has not been contacted by any survivor(s) of abuse. These allegations are shocking to us and we take them very seriously. Further, the alleged behavior is not representative of who Ben is and the manner in which they try to conduct themselves." PWR BTTM say they have set up an email address, which Hopkins will not have access to, where "a survivor or someone working directly with a survivor can discuss the allegations being expressed on social media." The band added that they are also looking to hire "a mediator with the necessary qualifications" to run the account and have ensured further updates on the matter. Vulture has reached out to PWR BTTM's reps for further clarification. Read PWR BTTM's full statement below.