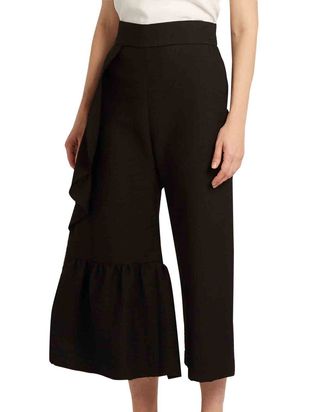 The first reaction most people have when they see these Rachel Comey pants is, "Those seem really weird. It makes sense that you like them." As I age, I've better come to understand my style — my friends best describe it as accidentally modest. I prefer skirts that skim my calves and tops that aren't too tight or revealing. My closet is full of noncolors like black, white, and gray. I feel like I'm in a costume when I wear anything trendy, as if I'm hiding behind the look of the moment in a misguided attempt to pass for 25.
This makes shopping pretty hard — I usually have to sift through a sea of off-shoulder dresses, bell-sleeve tops, and distressed jeans to find something grown-up that isn't boring or frumpy. Usually, I'm drawn to conventionally unattractive pieces like a pleated Sacai skirt that's really a pair of skorts or a boxy Marni dress with a neckline that hangs below my breasts (it's meant to be layered over a tank). The downside to my very particular taste is that everything almost always cost too much. Hey, nobody said dressing like an individual comes cheap.
With their high waist and cropped length that hits at the base of my calves, these cotton Rachel Comey pants seem like part of the awkward, unflattering pants movement. But then you realize they go one step further into full blown bizarro territory because they have two different legs. There's a giant ruffle cascading down the right side that ends in a voluminous flare just above the ankle. I put them on and I might as well be screaming, Look at how different I am! with every flounce-filled step.
Here's the thing about bizarro pants: They not only give me a confidence boost, but they also make my mornings easier. My goal is to put in the least amount of effort at 7 a.m., and these very unsubtle pants obliterate the need for an intricate top or fancy shoes. I just rotate through my basics, pairing them with camisoles and flat sandals during the summer and switching to a turtleneck sweater and calf-skimming boots come winter. So now you know: The crazier the bottoms, the more likely you can hit snooze in the morning. That's priceless.
If you buy something through our links, New York may earn an affiliate commission.