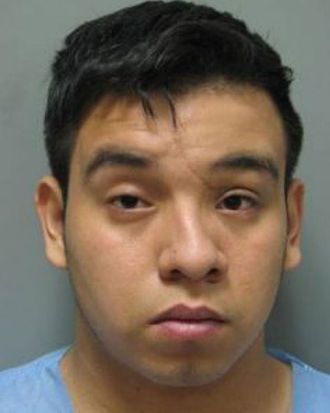 18-year-old Henry Sanchez-Milian was arrested in March.
On Friday, prosecutors announced that rape and sexual-assault charges against two Maryland high-school students had been dropped, CNN reports. Eighteen-year-old Henry Sanchez-Milian and 17-year-old Jose Montano, both students at Rockville High School, were originally charged with raping a 14-year-old girl in a school bathroom. But on Friday, prosecutors dropped the charges for "lack of corroboration and substantial inconsistencies from the facts."
"We have concluded that the facts in this case do not support the original charges filed in this matter," Montgomery County State Attorney John McCarthy said during a news conference. He added that the investigation was "extensive" and "included multiple interviews and reviews of phone and computer records, school surveillance video and medical records."
The case drew national attention when the White House used it to support President Trump's immigration policies — Sanchez-Milian, who's from Guatemala, was in the U.S. illegally. During a press briefing, Sean Spicer called the case "horrendous and horrible and disgusting" and added, "I think part of the reason the president has made illegal immigration and crackdown such a big deal is because of tragedies like this."
He went on, "The president recognizes that education is a state-run and a local-run issue, but I think it is — it is cause for concern, what happened there. And I think that the city should look at its policies."
After Spicer's comments, Rockville High was flooded with around 500 emails and 200 phone calls; at least two calls threatened to "shoot the illegals." During a press conference Friday, White House spokesperson Sarah Huckabee Sanders (who was standing in for Spicer) declined to retract Spicer's statement and said he was reacting based on "what he knew at the time."
Instead of rape, Sanchez-Milian has been charged with possession of child pornography for allegedly forwarding explicit photos and videos of the 14-year-old girl to Montano. His lawyer said that if he's found guilty, Immigration and Customs Enforcement will likely seek to deport him.