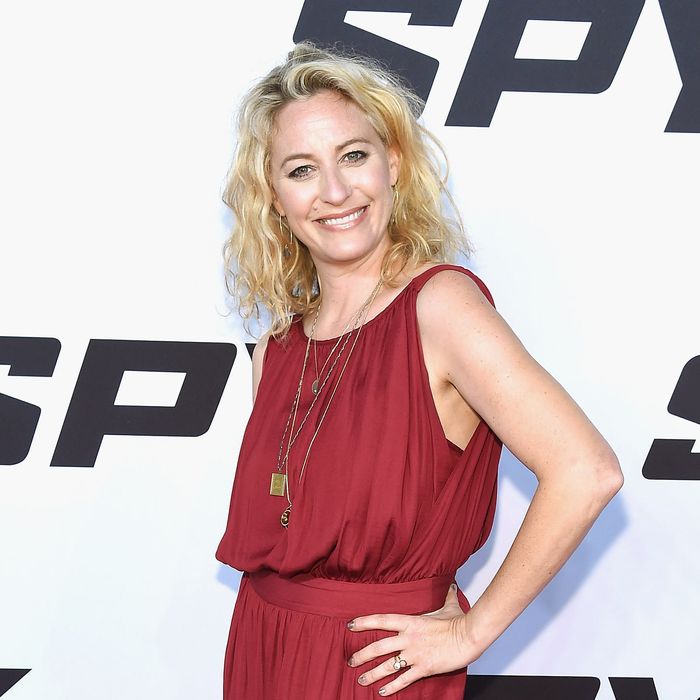 Jamie Denbo.
Photo: Gary Gershoff/WireImage
Orange Is the New Black actress Jamie Denbo went on a Twitter tear about an egregiously sexist and ageist casting call she received earlier this week. Denbo, who also appears in Spy, The Heat, and Difficult People, kicked things off by tweeting, "I was just informed that at the age of 43, I am TOO OLD to play the wife of a 57 year old."
"Oh, the characters also have an 18 year-old daughter. I am TOO OLD to be the mother of an 18 year-old. The real wife of the 57 year-old actor is EASILY AT LEAST 50. But this f*cker wants to be tv married to a 38 year-old –TOPS," she tweeted. "This is a FIRST marriage, btw. Not a re-wife. Which would make a little more sense. F*CK HOLLYWOOD. #FeudFX," adding, "Old white men, enjoy your last run. We are all f*cking done with you lizards."
Denbo, who co-hosts a hilarious podcast called Ronna & Beverly with Jessica Chaffin, is in illustrious company when it comes to calling out sexism in Hollywood on social media. Shonda Rhimes, Jessica Chastain, Rachel Bloom, Evan Rachel Wood, and Rose McGowan are just a few of the women using their considerable platforms to talk about sexism and other verboten topics in the film and TV industries. Also, whatever happened to that spinoff of The Heat featuring Denbo and Chaffin's characters? Snap to it, Hollywood.