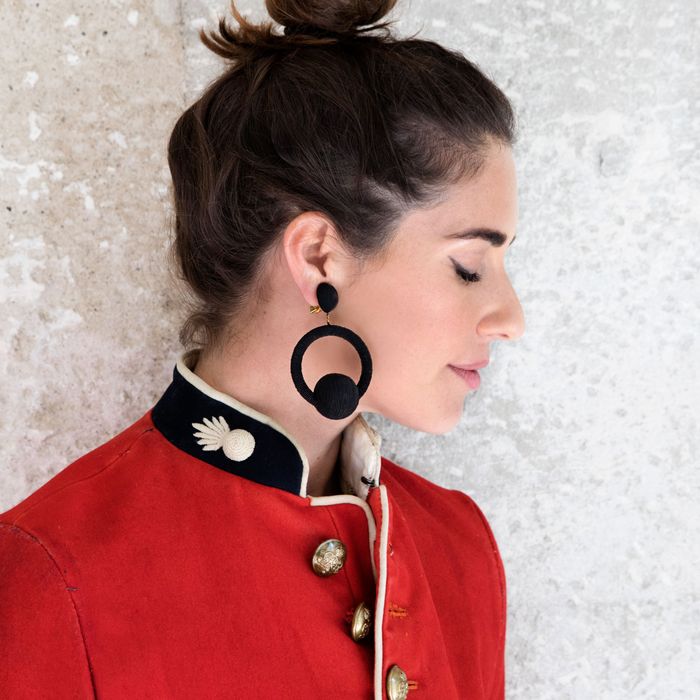 Les Bonbons.
Photo: Amy Neunsinger
If you've attended any fashionable gathering in the past six months, you've probably noticed the chicest women in the room wearing distinctive, candy-colored earrings. Rather than precious metals, these are rendered in silk thread — they're long, lightweight, and entirely alluring. Selena Gomez and Katy Perry are just a few of the celebrity fans that have donned the designer Rebecca de Ravenel's creations on the red carpet as of late, but until recently, the collection had been a fashion insiders' secret, whispered over cocktails and across power dinners at the likes of Indochine and the Sunset Tower.
De Ravenel has a backstory as interesting as her creations. Raised in the Bahamas by a British mother and a French dad, educated in Paris, and currently based in Los Angeles, she worked as an assistant designer for Oscar de la Renta before going into interiors and then launching her textile-informed jewelry collection in December of 2015. The bold, breezy aesthetic is very much in keeping with de Ravenel's unique personal style — friends say she reminds them of Frida Kahlo — and has captured the rest of our imaginations, too.
As the designer performed that most L.A. activity, searching for her car, the Cut caught up with de Ravenel to discuss her Bahamian roots, reggae, and her dream(y) dinner companions. Read on for the full interview.
Tell us a little bit about your fashion background.
I mean I grew up in the world of fashion because my mother was very fashionable and I was always surrounded by beautifully dressed women. When I was 18, I decided not to go to university and instead interned for Cristina Malgara, who was the head PR of Gucci France, and she gave me a job. And then I really got involved in production, PR. I worked for Kevin Krier and we produced shows in the States, and Gucci in Milan and Yves Saint Laurent in Paris. I went to Parsons in New York; interned for Vera Wang and Carolina Herrera, and then worked at Oscar de la Renta for a few years. I then consulted for Ungaro and Tory Burch, and decided to move to the Bahamas where I started decorating for Amanda Lindroth, who's a brilliant, brilliant decorator.
How does your experience in interior design inform your collection?
People would always say, "Do you want to decorate, or do you want to do fashion?" And honestly they go hand in hand. It's not one or the other anymore. Any sort of decorator loves fashion and looks at fashion for inspiration and vice versa. Why choose?
And why L.A.? How did you get here?
I was living in the Bahamas and after five years I decided it was time to venture out into the big world again. I had never really been to L.A. and I came to visit a friend for two days and then I said, "Okay that's it. I'm moving." I didn't know anyone … I hardly knew a soul! I called up Mark Sikes, the amazing decorator here, and I begged him for a job and he sweetly said, "Sure Rebecca. Come. We can try you out."
How did the jewelry come about?
I started making my earrings on the side, and they kind of took on a life of their own. I'm tall, and the taller you are, generally the bigger earring you have on, but big earrings are heavy. At the end of a night out you look down and see earrings strewn across the dinner table. And I thought, Wouldn't it be amazing to make some earrings that are large but light? So I played around with a few ideas; I've had close relationships to embroiderers and came to them with this idea and they said, "Hmm, okay … We'll make you a few because we love you." And they sat on my kitchen counter for a few months. I wore them out one night to a party in Beverly Hills. I walked into a restaurant with a friend and a man sitting with his wife got up and said "What are those things, I need to get them for my wife." He said, "They look like candy." And being French I said, "Well they're called Bonbons." So we made a few pairs, and then we made a few more — and then a lot more! Women just wanted them, we couldn't make enough. Men just want to touch them and it's so funny because men put them on.
They do?
Oh my goodness, you have no idea! If a man puts one on and then says, "Oh Rebecca, look," I think … Do you know how many men put them on? But it's wonderful because they're so magnetic and I love that.
And Selena Gomez recently wore the earrings on the red carpet.
That was pretty spectacular. We've had Katy Perry wearing them, Selena Gomez; Rita Ora just wore some that haven't even launched yet. I'm very excited about my new hoop. We do have a massive problem with copiers, so sadly I can't wear it out at the moment. I think Instagram is a brilliant tool and has massively helped my business, but there's also a setback because you can't keep things hidden and then there are copies.
What are your favorite accounts to follow on Instagram?
Oh goodness … I'm mad about Paravel, I don't use leather goods but I find that the pictures that they post are really pleasing and eye-catching. I of course think Mark Sikes's Instagram is wonderful, and there is a young guy called Remy Renzullo. I think he has a fantastic eye and an almost old-world sensibility. Miguel Flores-Vianna is this incredible photographer for Cabana magazine that I follow as well.
What's your favorite style from the current collection?
It's not one style that I love, it's colors because it's essentially about color-blocking. I'm in love with animals — I would do anything for an animal — so with the Don't Worry orange earrings on my website, 25 percent of the proceeds go to the Bahamas Humane Society.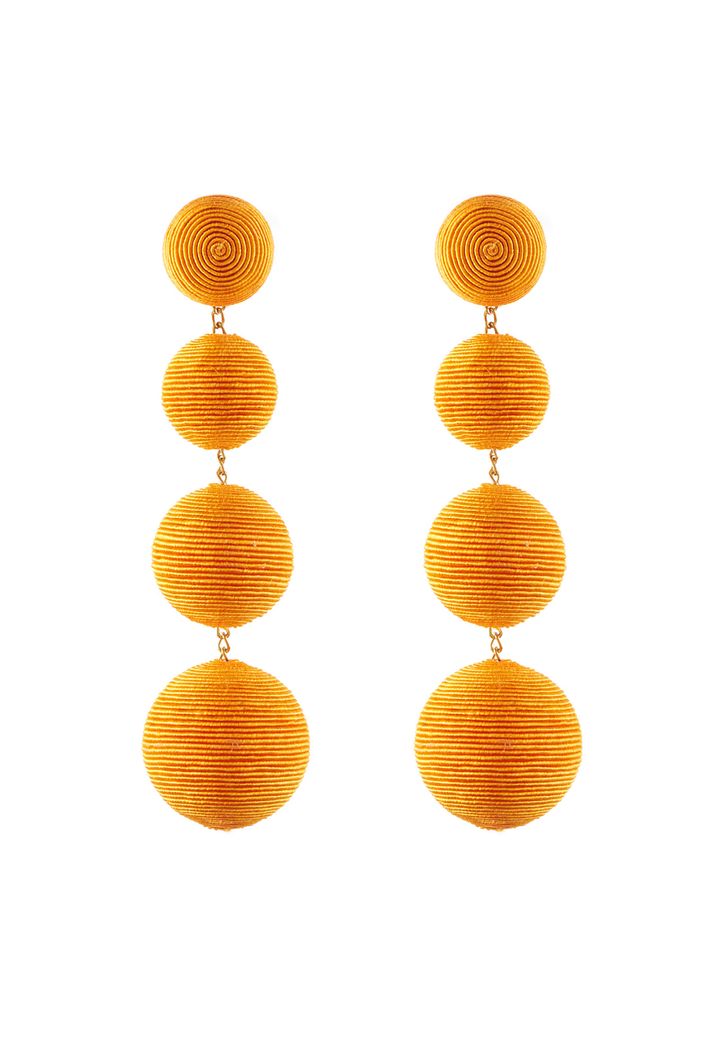 Do you have any pets?
I do! I have Luna, who is a cream terrier-mix rescue that I adopted a year ago, and I just adopted Frida a couple of weeks ago. I was supposed to be a foster mother, but the fostering lasted two seconds and I said, "I'll keep her!"
What's your fashion uniform?
A dress. I always wear a floaty dress or a shirtdress with a belt. I color block. I'm also very inspired by Yves Saint Laurent and Loulou de la Falaise. If I'm going to wear red, it's red with a pink sash, or blue with black … it's never one color. I don't think I've ever worn one color, and it's very rare for me to go out in black. I never plan an outfit before I go out, ever. If I'm in a serious mood I might want to wear trousers and high heels and a shirt, whereas other times I can feel flirty and want to wear a huge skirt. I think my go-tos at the moment are the La Double J skirts.
Tell us about the shirtdresses.
My mother would wear long shirtdresses with capri pants to dinner in the Bahamas and I thought it was so chic. I always want a longer shirt because I like tying them. I also often wear cigarette pants. I think it's an easy thing to throw on and still look pulled together. I think ease is important and I think the earrings are easy in a way, even though they are so bold. I'm making my own shirtdresses for fall.
Where in L.A. do you live?
I just moved to a house in the Outpost Estates. It's really beautiful and calm and quiet.
What are your favorite L.A. spots?
I spend a lot of time in Soho House in Malibu. It's so beautiful and well decorated. During the week it's a really good place for meetings. I'm very often in fabric shops and decorating shops … I love Hollywood at Home and Peter Dunham has such a great eye and the aesthetic is brilliant. And I go to vintage shops quite a lot. There's great resources for vintage here. So I love a shop called Golyester. The Way We Wore is next to it, which I also love. I do go to the Rose Bowl flea market, and I also love the Hollywood Bowl for concerts in the summer. I was very upset not to see a Van Morrison concert last year.
What's in your bag?
I'm carrying my new Lolli Basket bag that I designed! In it, I have a hairbrush, because I used to design for Oscar de la Renta and he once had an interview and asked all the girls in his studio for a hairbrush and none of us had one. He said, "Tomorrow, everyone has to have a hairbrush in their bag." And since that day, I've always had a hairbrush in my bag. I also have some Tata Harper lip gloss, my car keys, Tic Tacs, and my house keys.
Who is your dream dinner date?
I have two men in my life who are extremely important, both from the movies. One was Louis Jourdan and I actually met him and it was really a big moment in my life because his character was Gaston in Gigi … to me he was just a genius. And my other one was Superman, Christopher Reeve. When I was little in the Bahamas, I would leave my window open, hoping he would come and scoop me away. I was so in love with him. And I even had a Superman costume. I'm not sure how that helped me, but I did.
Who would you like to see wearing your earrings?
It's so hard to say. I mean, of course I would love Beyoncé or Emma Stone to wear them, but we've had some amazing girls — Selena Gomez, Lupita …It's a nice surprise when someone wears them. I don't think I've read a People magazine in 20 years. I tend to not know who anyone is … I think the answer is: Someone who is beautiful and fun and really loves wearing them is what would make me happy.
Heels or flats?
Flats. I'm always a flats girl and to be honest with you, I'm usually a barefoot girl. My father inspects the bottoms of my feet when I walk into the house in the Bahamas. "You have to wash those outside." I prefer to be comfortable in life. It's so boring to hear a girl complain about her shoes.
What are your go-to flats?
I have some very sparkly, very thin flats from René Caovilla. I like shoes that disappear. I do not like masculine shoes. If you're going to make them flat, make them dainty.
What music are you listening to right now?
Oh, I'm a reggae girl. It's the most boring answer but it's what I've listened to forever and what I always listen to.
What inspires you?
It very much depends on the mood. I just went on this amazing trip to Japan and all the ginger jars and the embroidery really inspired me. I also met a very cool woman the other night who was wearing a turban; it's the energy in the street; it's the mood … Yves Saint Laurent is always an inspiration, and at the moment I'm looking into Indian patterns and florals. Cabana magazine and old-world patterns and sensibilities. The nature of the Bahamas also resonates in everything I do.