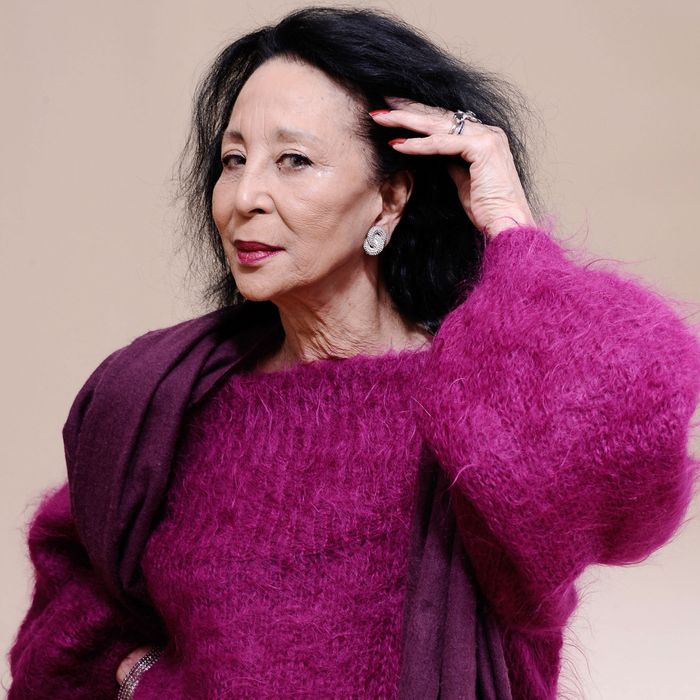 China Machado.
Photo: Larry Busacca/Getty Images
This article appeared in the August 22, 2011, issue of New York Magazine. "I didn't think of myself as good-looking at all," China Machado told writer Jada Yuan. She became one of Richard Avedon's closest collaborators and the first nonwhite model to cover a major fashion magazine. The legendary model remembers her "ordinary" life in the cover story, republished here after Machado's death.
China Machado is searching for her beginning. At age 81, she has decided to write the story of how she came to have this life that fascinates so many, though she still cannot conceive of why. But where to start? "It just happened to me," she says of emerging from the World War II ruins of Shanghai to become Richard Avedon's muse and the first non-­Caucasian model to grace the pages of a major fashion magazine, laying the ground for generations of models of color, from Iman and Naomi Campbell to Jourdan Dunn and Sessilee Lopez. When we set a lunch date at her Sag Harbor home, she gives these directions: "Drive straight to the end of the road. We're on the beach. You can come right in. I am an ordinary person."
Ordinary is perhaps the last adjective anyone else would use to describe China Machado, born Noelie Dasouza Machado, the product of 400 years of inter­marriage among Portuguese colonials and the local women in Eastern trading ports like Goa, where her maternal grandmother is from, and Hong Kong, where her Portuguese gold-trader father met her mother. "I don't say I'm a half this or a quarter that," she says of her ethnicity, "because I could be anything, really." Growing up in Shanghai's wealthy French Concession, Machado spoke French in the streets, Portuguese at home, and Chinese to the servants — that is, when the family had servants: In their first occupation of the city, the Japanese confiscated her father's business and their palatial garden home. The extended family, all fourteen of them, had to move into one apartment.
Her name change came when she started modeling haute couture. China is pronounced "cheena," like chinita, the word hurled at her in Buenos Aires and Lima, where her family eventually ended up after fleeing China by boat — and getting rejected at New York immigration because of quotas — just before the march of Mao. All the children had to have gold nuggets sewn into their clothes so they'd have enough money in their new home.
Although Machado claims to have shrunken half an inch, to five-foot-seven, since her modeling days, she still strikes an imposing figure — regal in posture, thin but not frail. She is decked out in a head-to-toe faded-denim Levi's outfit that only she could pull off as an octogenarian, and has a wild mane of dyed black hair that, she proudly declares, hasn't seen the inside of a salon in years. "Well, it's a bore! It's a drag!" she says of going to the hair­dresser's. She doesn't drive, she explains, so she'd have to get her husband, retired furniture exporter and businessman Riccardo Rosa, to chauffeur her. "I thought, I can't deal with this. So I do it myself, and instead of it costing $120, it costs $4." This all comes out in an odd, vaguely British accent, an amalgam of the seven languages she speaks, sprinkled with the occasional jarring twang from her 51 years in New York.
Her biggest break was, of course, Avedon, the man who declared her "probably the most beautiful woman in the world." They were friends and collaborators "from 1958 until the day he died," in 2004. But the Machado that Avedon met had come to fashion sideways. She claims that until she was employed as one, she didn't know what a model was and had never read a fashion magazine. She'd been raised with two brothers and a stepbrother in a culture in which girls like her were invisible. White American women — Irene Dunne, Vivien Leigh, Rita Hayworth, and Machado's idol, Ava Gardner — were the paragons of beauty in movies and posters around Shanghai. "We [nonwhites] had no images. We had nothing that told us we were nice-­looking. Nothing. So I didn't think of myself as good-looking at all. It never occurred to me," she says. In other words, she'd never seen another China Machado.
It wasn't until a few years later, in Lima, that she came to see herself differently. A handsome Spanish man, Luis Miguel Dominguín, who also happened to be the most famous bullfighter in the world (Ernest Hemingway wrote The Dangerous Summer about a rivalry between Dominguín and his bullfighter brother-in-law), took one look at her and asked her to come away with him. She was 19 and working as a stewardess and had no higher aspirations than to escape from her oppressive stepmother, marry, and have children. (Machado's mother had died when she was 3.) Running off with Dominguín was a move that estranged her from her family for the next fifteen years. But it also took her to the Cannes and Venice film festivals and into the homes and yachts and studios of the likes of Errol Flynn and Pablo Picasso.
After two years of other women and fights and passionate reunifications, Dominguín left her for none other than Ava Gardner. "Can you imagine?" Machado says, laughing. "Some number. She was exactly like him. Would pick up a waiter at a restaurant and go to bed with him. They were both very famous, very beautiful, very rich, and were wanted by the whole world." The experience, she says, left her "so beaten down, I didn't know what happened to me. I had no world. I had no savoir faire. I was just a kid, really." So she moved to Paris, where she got noticed at a cocktail party. She filled in for a sick girl at Givenchy and was offered a permanent position that day.
Machado spent three years there as a "house model." As she explains, "Basically, the whole collection was designed on you. Then there was an opening show in a tiny room. You walked in, you walked out. There was a girl by the door who shouted out, 'Numéro une!' 'Numéro quarante-six!' You didn't look at the clients. And Givenchy said, 'Don't go near them, because they're going to try to go under your skirt to see how it's made.' "
Machado left and became the highest-paid freelance runway model in Europe, she says, with a salary of $1,000 a day. She still had not been photographed professionally; a mannequin volant like her was distinct from "photo models" like Dorian Leigh, Suzy Parker, and Dovima, and designers were paranoid about being copied and often forbade photographers from attending their shows. "Did you know that Women's Wear rented an apartment across from Givenchy and Balenciaga with binoculars to try to see what was going on? So while our clothes were being made, we had to put a piece of cloth over us, going up and down the stairs from the studio to the atelier," she says. "I never saw the press, and they never saw me."
Oleg Cassini, later Jacqueline Kennedy's favored designer­, did see Machado and asked her to come with him to New York for two weeks to be in his show. The day she arrived, she met Diana Vreeland, then at Harper's Bazaar, who threw her in a show at the Waldorf-Astoria that same evening; she opened it atop a twenty-foot ladder in "bat-wing Balenciaga hot-pink pajamas." That was when Avedon spotted her in the flesh. He was 35, she 28. He asked her to come to his studio the next day. Those photographs wound up in the February 1959 issue of Bazaar, though only after Avedon made a stink when the publisher balked at running them.
"Dick was a photographer who made you think that you were the most wonderful person in the world, with every model," she says. "You went in front of Dick and the lights came on and you thought, My God. Is this really happening?"
That trip to New York, during which she joined the ­Avedon-Vreeland circle, with its celebrities and fabulous parties, stood in stark contrast to her only other visit to the city, at age 16, when she and her family had been turned away by immigration. "Can you imagine the difference of not letting me live in America to coming back to this fantastic opening of the doors of New York?" she asks. "For someone from Shanghai who never dreamt about modeling, it was such a wonderful welcome. It really made me say, 'This is the country I'm going to live in, and New York is going to be my town.' And I never went back. My roots were immediately here."
Avedon and his wife Evelyn were witnesses at Machado's City Hall wedding to her first husband, actor Martin LaSalle (Pickpocket), a boyfriend from Paris with whom she reunited after a yearlong affair with married movie star William Holden (The Wild Bunch). Her two daughters with LaSalle, her only children, were born here, too: Blanche, now an auditor at MGM in Las Vegas, and Emmanuelle, who is currently producing a ­documentary about her mother's life. It's one of three that Machado is filming.
Three years later, though, she still had no other ethnic contemporaries and doubted that she could advance commercially, given her very specific "type." (It wasn't until the landmark "Battle of Versailles" fashion show in 1973, with its splashy team of eight African-American models, that fashion's racial barriers would have their next symbolic shattering.) Avedon persuaded her to join him on the other side of the camera, as Bazaar's senior fashion editor.
They spent nearly every day of the next eight years together as they traveled the world and shot Elizabeth Taylor, Judy Garland, Lena Horne. But they were never lovers. Eventually Avedon went to Vogue and she went on to produce fashion TV shows, design costumes for films, and crisis-manage as fashion director of Lear's, a magazine for women over 35 founded by Norman Lear's manic-depressive ex-wife, Frances, that lasted a miraculous six years before Lear ran it into the ground. Machado would frequently rejoin Avedon to produce and style ads for Revlon, like his "Unforgettable Women" campaign, featuring her successors Beverly Johnson and Iman.
Though she was photographed for this fall's Barneys campaign, Machado says she stopped paying attention to fashion the day she retired, in 1991, to run a (now closed) store and gallery in the Hamptons and live off the earnings of her very wise investments in real estate out there; the first house of nine that she bought sold for twenty times what she'd paid for it. But from her limited vantage, she questions the idea that models of color have come very far. "Even now it's not so much," she says. "Trends go and come back. Now it's all blondes and baby-faces. Black models are more accepted, but if you look in a magazine today, there aren't that many black models."
She'd much rather talk about the women of reality television. "What is this … Snooki? I'm just, like, appalled! Where do these people come from?" she says. She "half-likes" the Kardashians. "At least Kim is beautiful, and I'm amused by them. I mean, they photograph themselves in the bath with men. And then Kim had her ass X-rayed to prove that it was her ass, that it wasn't an implant. I don't know what is going on. I can't believe it! They say anything, and they're just out there, and for this I was kind of, 'Wow! Okay! Terrific!' "
The last time Machado saw Avedon was at a party she threw in Sag Harbor just before her wedding to Rosa after 25 years of co-habitation. She'd caved to pressure from her two grandsons, Malcolm and Monty, who were tired of not being able to call Rosa "Grandpa" because he was still technically Machado's boyfriend. But in a way, Avedon is there when you enter her house. On the day he died, she painted her living room with a sweeping, detailed tableau of the Yangtze River life of her childhood memories, set against a vivid pale-blue background. "I had to do something," she says. "I couldn't think about it. I would have felt too sad." She's since painted nearly every room in her house with the people and scenery of a different exotic locale she's visited. The enclosed patio is Sicily; another room, Morocco.
In the first draft of her book, tentatively titled I Was Always Running After the Laughter, Machado followed her agent's advice and opened with Avedon. But after long consideration, she's realized that Avedon was not her beginning. "I think my childhood in China formed me, and Europe, and everything else before I came [to New York]," she says. "I think it started when I got very sick." At age 6½, Machado came down with typhoid, paratyphoid, and meningitis all at once. "I was dying," she says. She was kept in quarantine, and recalls delirious images of relatives weeping, her hair falling out, and a priest administering last rites. While she lay there, barely breathing, the Japanese bombed the hospital. Her father rushed over, but the quarantine ward was empty. When he found her, she says, "I was wrapped in a gray woolen blanket, thrown on a lorry with the dead people."
She spent three more months in a wheelchair, then emerged to a new life in a new home in a changed city. She was no longer the doted-upon little girl but a sort of live-in cook and maid for the men of her family, which her stepmother considered to be a girl's proper place. "It was at that time," she says, "that the kind of survivor in me came out."
This past April, Machado went back to Shanghai for the first time since 1946, accompanied by her husband, her daughters, and her grandsons. She'd avoided the visit for five decades, thinking it would be "too painful," that she'd be reminded of the war or, worse, of how all her close family members had either passed on or been scattered around the world without her ever seeing them again. "Tears were running down my face," she says, when she visited her old apartment in a beautiful Art Deco building fallen to ruin. The Catholic church she'd attended was just a façade; the nave had been gutted and turned into offices for the Communist Party. Still, she loved the life and spirit of the new Shanghai and returned home to Long Island inspired enough to paint a guest room in the theme of what she'd seen and to redo one of her gardens in the Chinese style, complete with manicured dwarf maples and custom-made moon doors. And the pain, well, it didn't feel like pain, exactly. "In Portuguese you call it ­saudade," she says. "It means a kind of longing and a love that still remains, that every once in a while when you think about it, it is with nice memories. It's a missing. The other word in Portuguese that is similar is lembranças. Memories. They're both beautiful words."