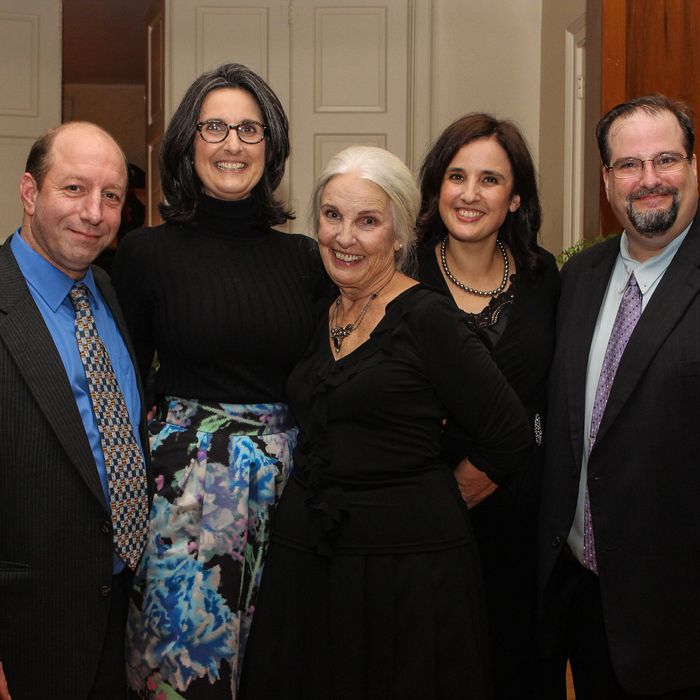 The author with her four children today, 45 years after they appeared on the cover of New York.
Photo: Courtesy of Jennifer Rogers
Editor's note: Exactly 45 years ago, in the issue of May 22, 1972, New York published a cover story by Jennifer Skolnik called "Notes of a Recycled Housewife." The magazine's cover headline went into more detail — "The Suburban Housewife Who Bought the Promises of Women's Lib and Came to the City to Live Them" — and the essay was a strikingly open personal account of the ways this young mother's life had been changed. She discussed job hunting and babysitter troubles, bad dates and good dates. It was a story that received its share of criticism at the time, in part because her children appear in the photographs that accompany the essay. On the anniversary of its first publication, Jennifer Skolnik — who is now Jennifer Rogers — revisited her younger self.
Click here to read the original.
***
In the spring of 1972, a person I shall call "I" bought the promises of women's lib and came to the city to live them.
I didn't write that line; an editor at New York did, but certainly it was I who wrote "Notes of a Recycled Housewife," about my impending divorce from the father of our four small children, whom I had taken to the city with me. After the article appeared, my husband disappeared, leaving no forwarding address. I believed I'd so embarrassed him that he needed solitude, wherever he was, which turned out to be Paris. I learned some decades later that accompanying him in his solitude was the woman who would soon become his new wife and the mother of two of his subsequent children. Well before the article they were already in love and happy to let me talk my way into a divorce.
In 1972, I was 32 years old, as was my husband. Our children were ages 2, 3, 4, and 6. "Notes of a Recycled Housewife" chronicles my efforts to get a job to give the kids and me enough money to live independently.
In the city. And I had four growing children?
OMG! as we would say today about something so shocking. Many said it at the time. The reaction to the piece was … strong. There were phone books back then, with phone numbers in them, and my name was on the article; guys called me up in the middle of the night to chat and breathe. Elsewhere, feminist leader Betty Friedan shook her head (or was it a finger?) in dismay — "Not what we meant," she was reported to have ranted, presumably about liberation, at a party in the Hamptons. A sociology professor at Yale called to ask if I'd be willing to become a subject for his study on public scrutiny of the naïve individual. (No doubt the research was otherwise titled, but no matter — I quickly said no.) The publisher of a forthcoming memoir I'd written about one of my children insisted I take my name off it, and use a pseudonym.
The book advance had financed our move to the city, and would keep us going until I found a job. I'd thought I might supplement my new salary with some freelance writing — and I did, a bit — but after "Notes of a Recycled Housewife" I was not about to put typewriter to paper in the first person. The kids and I would just fade into the paycheck-to-paycheck background of the busy city.
Except the photo of all five of us had been on the cover of New York: Joey in the stroller, Sarah and Debbie helping Mom push it, Danny hanging on for dear life. Everyone could see us coming from blocks away. Sometimes, walking down the street, I glimpsed a woman flashing a secret V sign at me; often, at the playground in the park, I was told private anecdotes and confessions by mothers I'd never met. One day, I opened the door of the apartment to a process server: My husband, back from Paris, had taken the kids for a visit to our old home state, and now refused to return them; he was suing for full custody. In court his lawyer argued I was an unfit mother for allowing the children to be part of the cover photo — and also for writing "Recycled Housewife" in the first place. (The judge said he didn't think I was so bad, and directed my husband to "give her children back to her" and also pay some minimal child support.)
Two years after the article came out I was doing Saturday errands on Broadway with my little daughters and sons when suddenly Danny ran ahead on the sidewalk. A short man with a stocky build and watery blue eyes had parked his motorcycle and sidecar in front of Zabar's. The man offered to take the children for a ride in the sidecar. I said no, he said yes. I relented, but only if I could come, too. We all climbed in. He had extra helmets for us to wear, several covered in stickers that read Helmet Laws Are Unconstitutional. Off we went. Almost immediately we were pulled over by a policeman for "overloading a sidecar," which our new motorcyclist friend maintained was not a statute. He thought we should fight the summons. I thought the kids and I should go home. He had already given me his card and an account of his background (he grew up in Alabama) before coming to New York, where he and a partner had recently started "a little company" that did something or other. He called it a hedge fund. I had no idea what that meant. I don't recollect telling him my name, but he must have recognized us, because that night he looked up my phone number and called me. We were married three months later.
And divorced two years after that. If you were around at the time you may have heard the gossip, about a real-estate grab, about my former sister-in-law. In any case, I would like to declare that I never took a penny of alimony from either of my husbands (not that either of them ever offered it). And I never married again. I have been single for 41 years, which is still a frightening thing to write down.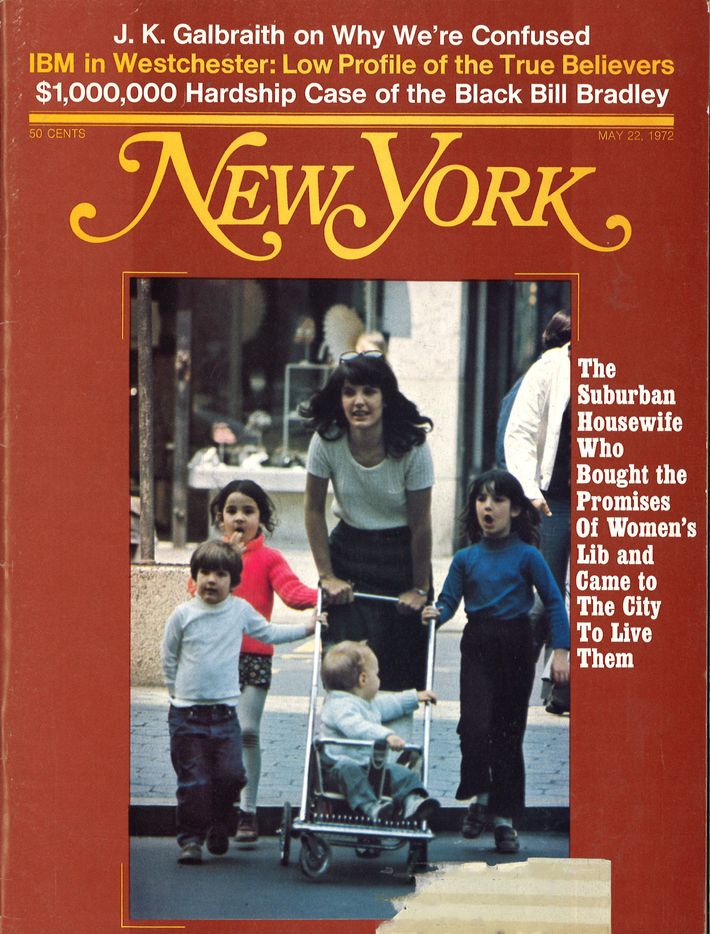 But I always worked, and the kids and I always managed. In the story, I mention a job at a new start-up book-publishing house. Try to picture Workman Publishing as the infant brainchild it once was (Peter Workman was a genius). We were in a suite of rooms over a ballet studio on East 51st Street; from my desk I looked out on the vest-pocket park below. The first year I was there we published trade paperbacks on yoga, breastfeeding, and making your own baby food; the fifth year we had our first New York Times best seller, B. Kliban's Cat. After that we had a lot of best sellers, and moved to midtown and a loft in a building across the street from Lord & Taylor. Do you remember The Silver Palate Cookbook? The Official Preppy Handbook?
I was not alone as a divorcée in New York — we single working mothers were popping up all over the place. For many of us the shape of the nuclear family shifted into a big blended blob (at this writing my kids have two stepmothers and three half-siblings). Our children grew up in the era when mothers dated. When my children were entering their teen years, I loved a younger guy who advised we could be hit by a cement mixer at any time so why not live for the moment, and indeed he lived with us for a year before deciding he wanted to marry and have children of his own. Do you know how terrible it is when kids get attached and then there's a breakup? The loss resounds. But my kids grew up funny and kind, and they stick together. To brag: They graduated from Princeton, Harvard, and Cornell, and my youngest son, the child in the stroller, served in the U.S. Marines during Desert Storm. They are middle-aged now, lawyers mostly, with families of their own.
As for me, I'm an old woman at the moment, but the moment won't last. Scattered lead-up events — meniscus tears, rotting teeth — portend the quick inevitable. Time folds in on itself. Before I moved from the city, my last job was as director of content for an early online-service provider whose office was in the suburbs. Every morning we staffers reverse-commuted from Grand Central, and while we sat together, drinking our coffee, reading our memos, arguing whether some of the premium content — offerings on sex, dogs, and rock and roll — should stay behind the firewall, I kept an eye out the window just to my right for the house where I lived as a child. I could see it through the woods as we whizzed by, could remember the bedroom my mother wallpapered in floral sprigs for me all one evening, could hear her chatting away even as the passing train whistles meant it was time for me to go to sleep..
The single women popping up all over the place right now aren't divorcées, they're widows. Our men are leaving ahead of us. Of the half-dozen guys in a snapshot taken 26 years ago at my 50th birthday party, five are gone. We divorcées are like awkward big sisters offering tips to the widows on how to live alone. It is the rare woman our age who remarries. Being an old woman feels a little like being a young housewife: You're out of sight, and the work you do is unpaid.
When I stopped working and couldn't afford to rent in New York anymore, I bought a 900-square-foot condo in a central New Jersey township with a Princeton mailing address. Princeton is the home of a women's club founded in 1898 whose early members included the first Mrs. Woodrow Wilson (Ellen Axson) as well as Mrs. Grover Cleveland (Frances Folsom). Until recently, I produced a weekly program of speaker-presentations for the group. I was a volunteer and it was almost a full-time job. The sense of accomplishment I took from my duties reminded me of Workman in the '70s and '80s when we were on a roll — and of my mother. Some mothers like to work. Some mothers think work is important. Some mothers teach their daughters not to be afraid of work. My mother showed me how to iron and cook and fold hospital corners. She knew how to truss a chicken, roll her own cigarettes, drive a stick shift. She could knit socks, sew dresses, make a cake from scratch. To help with my college tuition she sold furniture on commission at W&J Sloane. And she volunteered her heart out for the League of Women Voters.
Where do independent old women like me find the money to live if we're not working? My own income is from Social Security and a tiny portfolio. I have nothing but nice things to say about Medicare. I watch my pennies.
Princeton is the best second-best there is (I can go to a free lecture at the university every afternoon if I want, and in the summer we condo owners share a pool), but it isn't New York, where I will never again be able to live. I'm so glad I went to that distant city when I did. The one waiting for me now is different.