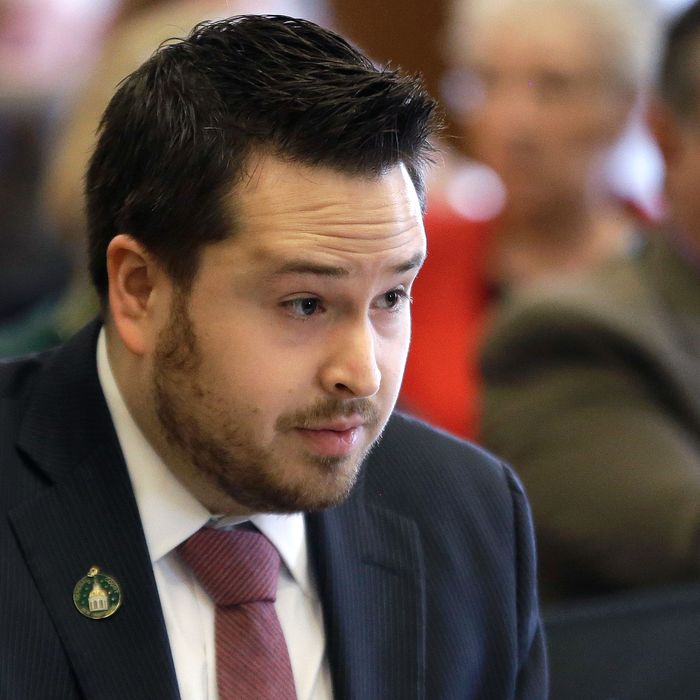 New Hampshire state representative Robert Fisher resigned Wednesday.
Photo: Elise Amendola/AP
New Hampshire state representative Robert Fisher resigned Wednesday just after a committee voted not to punish him for creating Reddit's infamous /r/TheRedPill subreddit. For those blissfully unaware, the subreddit is where men's rights activists (MRAs), pickup artists (PUAs), and other misogynistic groups go to discuss things like how the real goal of feminism is to repress men.
In April, reporters at the Daily Beast revealed Fisher's identity by piecing together his online pseudonyms, several of which had promoted his band, of which he's the only member. At the time, Fisher denied knowing what the Red Pill forum was. (He later admitted to creating it.) Then, hours later, several of the online accounts associated with him were deleted and made private.
After the reveal, Fisher penned an entire column in his own defense, in which he called taping sex, "the best, or only, form of protection for men to prevent false rape accusations," and lamented being the victim of "manufactured moral outrage."
Despite the column, lawmakers formed a formal legislative committee to look into Fisher's actions online. At a hearing before the committee, he told them, he "never hated women," and that some of his online comments "are certainly not reflective of what I stand for or what I have done in my time here in Concord."
Republican House Speaker Shawn Jasper seemed disappointed in Fisher's decision, calling his resignation "unfortunate." "I hope that we can now move forward with our important legislative agenda," he said.