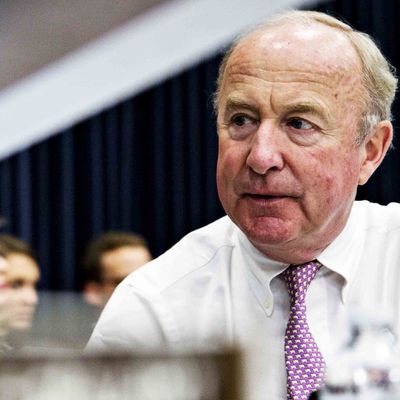 Representative Rodney Frelinghuysen.
Photo: Andrew Harrer/Bloomberg via Getty Images
Trump's presidency has inspired a surge of grassroots activism across the country, with citizens attempting to enact change on a local level. One such group that emerged post-election is NJ 11th for Change, which has been attempting to get their representative, Rodney Frelinghuysen — who has been described as "New Jersey's most powerful congressman" — to hold a town hall. In response, the Republican congressman has reportedly called out one of the group's organizers, Saily Avelenda, in a letter to her employer.
WNYC reports that in March, Frelinghuysen wrote a fundraising letter on campaign stationary to Joseph O'Dowd, who has previously donated $700 to the congressman. O'Dowd is also a board member at Lakeland Bank, where Avelanda was previously employed. The typed-out letter includes reference to "organized forces — both national and local — who are already hard at work to put a stop to an agenda of limited government." An asterisk by "local" leads to a handwritten note at the bottom which reads "P.S. One of the ringleaders works in your bank!" Attached was an article in which Avelanda was quoted.
Avelanda tells WYNC that after her boss showed her both items, there were consequences. "I had to write a statement to my CEO, and at my level as an assistant general counsel and a senior vice president, at this employer it was not something that I expected," she explained. "I thought my Congressman put them in a situation, and put me in a really bad situation as the constituent, and used his name, used his position, and used his stationery to try to punish me."
She has since resigned from her job, citing the letter as one of the reasons. While the letter itself was not illegal, it does certainly present an optics issue for the congressman — and will probably be fodder for his next "telephone town hall."