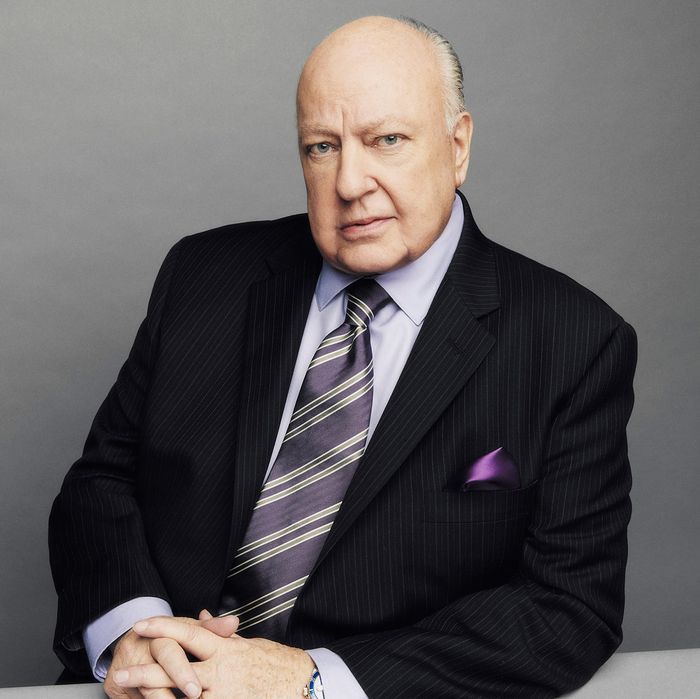 Former Fox News chairman Roger Ailes died this week at 77.
Photo: 2015 Wesley Mann/FOX News
On Thursday, news broke that Roger Ailes, the 77-year-old former Fox News chairman and CEO, had died. Ailes single-handedly shaped the cable-news landscape as we know it today, but over the last few months, he's been dogged by a flood of sexual-harassment allegations by Fox employees, which eventually led to his ouster from the network.
As Thursday wore on, memorials and personal tributes to Ailes began to roll in, calling him everything from a visionary to "one of the worst Americans ever." Here's how several outlets addressed the sexual allegations against him.
Michael Wolff in The Hollywood Reporter:
It is, of course, impossible to know what might be true or not. And now it can never entirely be known. Surely, his political enemies, the legions of them, were concerned much less for the truth than that he be gone. As surely, less is true than what the various lawsuits allege, because that is the nature of lawsuits. All of us who know what Roger reflexively talks like, irascibly, caustically and with retrograde vividness, give him, at least privately, the benefit of the doubt.

In the end, the larger story is about someone who, from Nixon's "silent majority" to Reagan's "Reagan Democrats" to Fox News, understood the intensity of the unhappiness and anger in another America that we liberal media people are only now waking up to with Donald Trump.

More personally, when you're in the media business, what you look for is someone who is at the top of his craft, who understands the real score, who knows how to gossip and who has stories to tell. If you missed knowing Roger, you missed out.
The last paragraph of an opinion piece in the May 19, 2017, print edition of The Wall Street Journal:
Ailes's career ended at Fox amid allegations of sexual harassment, but it is hard to overstate the importance of his legacy in television and American politics. He rebalanced both in the U.S. The competition in both will continue, but Roger Ailes redesigned the playing field.
Jack Shafer in Politico:
Ailes was a witty man, reporters will tell you, happy to share an offending comment without worrying about the consequence. But nobody would look at his complete record and conclude that he was a good man. He was vengeful, as Gabriel Sherman's book, The Loudest Voice in the Room, shows repeatedly. He engaged in thuggery. At Fox, he ruled by terror, trashing his reporters behind their backs. He used Fox to promote conspiracy theories. He spied on the reporters who worked on the small newspaper he owned in Putnam County, New York, and bullied his way around town. And, of course, he attempted to coerce sex from his employees. He was the villain in the novel of his life.
Jim Rutenberg in the New York Times:
Mr. Ailes, who died on Thursday at 77, exited Fox News with his reputation in tatters. He was ousted last summer amid allegations that he preyed on women who worked for him with offers of advancement in return for sex. He denied the claims. And in the months before his death he watched his legacy become further tarnished as similar harassment allegations led to the departure of the network's top star, Bill O'Reilly, and a federal investigation began to examine the business practices during his tenure.

He was as divisive in death as he was in life.
But Mr. Ailes's feel for presentation — men wore suits, women wore skirts — also fed an old-world sense of gender roles. That may have comforted some core members of the Fox News audience but it also came to symbolize a climate in which, according to the allegations against him, he lorded his power over female staff members in predatory fashion.
Shepard Smith on Fox News:
Roger helped everyone in his life, and he never spoke of it. He gave his time and his money and his influence, and he gave his heart. Then last year we began to learn of another side of Roger Ailes, another part of his life. I didn't believe it could be true at first, this man I so admired, despite our differences.

To the true victims, respect and comfort. It's all so complicated. Everything here was and is, as he was. Roger Ailes was a patriot. He was the biggest personality and the most influential and powerful man I ever personally encountered. He changed my life and the lives of everyone in my family for generations to come.
Rachel Maddow on Access Hollywood:
We stayed in pretty close touch; I consider him to be a friend. Obviously the sexual harassment allegations against him at Fox were a big deal and they were serious allegations and it was a big deal and it was enough for Fox to get rid of him, which is a huge deal given what he did to create that massive company. And that's real and I don't want to minimize any of that. But in addition to that, he was also a lot of other things, and one of the things he was was basically the person who invented this genre. He was a media genius.
Gabriel Sherman in New York Magazine:
Last summer, the world learned why Ailes was so terrified about having his life made public. The allegations of sexual predation did not surprise me. In my book, I reported incidents early in Ailes's career in which he had asked female employees to trade sex for professional advancement — all of which he denied, of course. Sources told me the behavior continued at Fox, but no one was willing to go on the record to speak about it. I hoped the publication of my book in January 2014 might spur women to come forward. In the end, it took Gretchen Carlson filing a lawsuit two and a half years later to open the floodgates.

As I spoke about Ailes yesterday in television and radio interviews, I thought of Ailes's victims, who were denied the closure of seeing their sexual-harassment lawsuits against him go to trial. I thought of Ailes's teenage son, Zachary, who lost his father and will grow up with that sordid legacy.