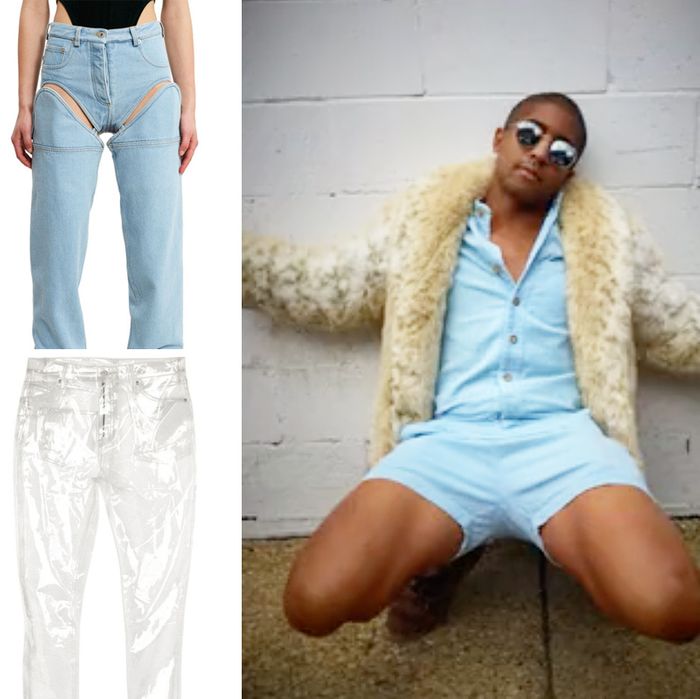 The RompHim, Topshop's clear plastic pants, and wacky denim spinoffs.
"My timeline is purely rompers and Russia," our preeminent cultural critic Chrissy Teigen tweeted on Tuesday, perfectly summing up the jarring quality of this week's news cycle. This spring has delivered us a bumper crop of deliciously bizarre, meme-worthy fashion trends. There have been Franken-denim experiments including Vetements' back-slit jeans, "janklets,"and intentionally mud-stained pants. The quixotic fashion gods also saw fit to bestow on us clear plastic pants (why not save the TSA a little work?), and, most recently, Y/Project's zip-off jorts. All of this has a haphazard, end-of-days feeling to it — if we're headed for global self-destruction, these designers seem to be saying, why not go out wearing hip-to-ankle cellophane?

And this week, amid frightening talk of Russian collusion and a brewing investigation, we all found solace in making jokes about the RompHim, a male romper that launched a lively, mostly silly debate about who could wear a romper, the virtues and pains of wearing a romper, and whether a RompHim concept is even a new thing (Some were quick to point out that Andy Cohen, James Bond, and this guy on the L train have been doing it for years.)

The fun only escalated from there. Reebok, which has developed a knack for rushing these fashion parodies to market, quickly created its own prototype. (It also riffed on the mud-stained jeans craze with a pre–"sweat stained" shirt earlier this month.) We've fully made the transition from silly fashion-related Photoshop jokes and memes to actual parody fashion — trolling in fabric form. And there is clearly an audience for this kind of thing, because the shirt already sold out.

When we speak of distraction now, it usually comes with a negative connotation — this Trump tweetstorm is distracting us from an important piece of legislation, or that entertaining Oval Office dustup is meant to mask something more insidious. Certainly, everyone should strive to be vigilant and engaged, but sometimes you need a release valve, and this week, it's been fashion. Even those of us glued to our news alerts can admit that it's been a relief, in a time of chaos to get a text from your friend asking "Have you seen this crazy thing?" — and for once, to not have it be about Russia.