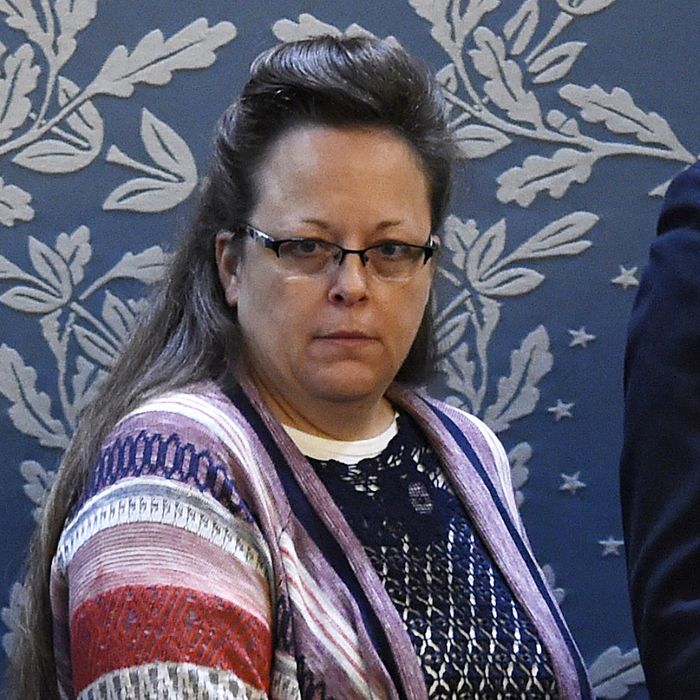 A court ruled that same-sex couples denied marriage licenses can sue Kim Davis.
Photo: SAUL LOEB/AFP/Getty Images
On Tuesday, a federal appeals court ruled that Kim Davis — the Rowan County clerk who refused to issue marriage licenses to same-sex couples on "God's authority" — can be sued for damages. Last August, a U.S. District judge dismissed same-sex couples' case against Davis on the grounds that Kentucky had changed its marriage-license policy. But the Sixth Circuit Court reversed that decision, saying that the policy change doesn't eliminate the harm Davis caused the couples, the Lexington Herald Leader reports.
David Ermold and David Moore — the couple who originally filmed Davis denying them a license — were the plaintiffs in the case. The appeals court ruled that they're entitled to have their complaint against Davis heard because it's "not a general challenge to Davis's policy, but rather seeks damages for a particularized harm allegedly suffered by a specific set of plaintiffs."

Now, the case will go back to the U.S. district judge. If he rules in Ermold and Moore's favor, Davis could be responsible for paying damages to the couple.
Davis has been in and out of court since September 2015 and even spent a short time in jail on a contempt-of-court charge. ("The time I spent in jail was a very peaceful time for me," she told a reporter.) Most recently, she dropped her case against the state of Kentucky, which she claimed was violating her religious beliefs, but her appeal against a ruling requiring her to issue licenses is reportedly still pending.