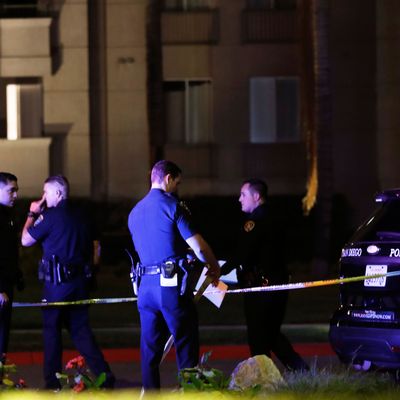 Police at the apartment complex following the attack.
Photo: Gregory Bull/AP
On Sunday night, 49-year-old Peter Selis killed one person and wounded six others when he opened fire at a pool party in his San Diego apartment complex. According to San Diego Police Chief Shelley Zimmerman, he was "despondent" over a breakup and called his ex-girlfriend, because he "wanted [her] to listen in as he carried out his rampage."
The incident was initially being investigated as a possible hate crime (Selis is white, all his victims are African-American or Hispanic) but Zimmerman told press there is "zero information to indicate that race played a factor in this terrible and horrific crime," adding, "the victims were targeted for no reason other than their mere presence in the vicinity of the suspect."
Selis and his girlfriend had split up a few days prior and he was reportedly "distraught and depressed." He was also over $100,000 in debt.
Selis was described as eerily calm at the time of the shooting, with one witness saying, "He had his beer in one hand and his gun in the other." The incident began around 6 p.m.; police arrived to the scene shortly afterward and fatally shot Selis when he opened fire on them.