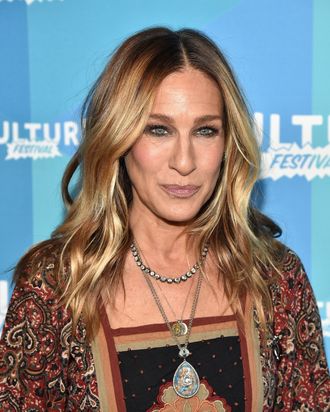 Photo: Bryan Bedder/Getty Images for Vulture Festival
The Sex and the City fans were out in full force and taking plenty of selfies at Vulture Festival, as New York magazine editor-in-chief Adam Moss talked to Sarah Jessica Parker about her career. But nothing got the fans more emotional than when Parker said her most prized possession from the set of the show was the famous Carrie nameplate necklace.
"I have the Carrie necklace still," she said when asked what she kept from the set, eliciting a huge "Awww" from the crowd. "I love it and it's tucked away somewhere safe."
Parker said one of her favorite scenes from the show was when Carrie almost loses the necklace in Paris and freaks out about it. In real life, when she tried to find the necklace for one of the movies, she thought she had lost it as well and it totally freaked her out. "I wish I could play that scene again, because now that I've lived through it, I'd do a much better job," she said.
It's not just the necklace she kept — it's pretty much all the clothes, too. "We have probably 95 percent of the clothing archived. I have it all," she said. "I don't touch it or wear it but all of that is really meaningful." Most people would probably freak out being in that closet, just like Carrie did when she was finally allowed in the sample closet at Vogue.