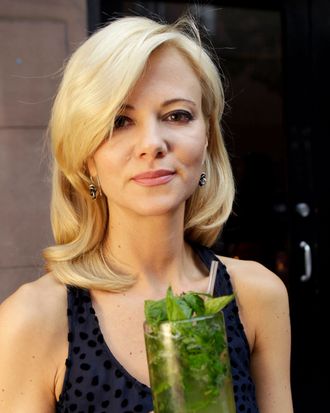 Sarma Melngailis.
Photo: Kathy Willens/AP
Last May, Sarma Melngailis, the restaurateur behind the now-closed vegan hot spot Pure Food and Wine, was caught after several months on the run when she ordered a Domino's pizza to her hotel room. On Wednesday, her long, strange saga came to an end when she accepted a plea deal in Brooklyn Supreme Court. She received a split six-month sentence and will serve four months in jail plus five years' probation for grand larceny, criminal tax fraud, and a scheme to defraud.
She initially went on the lam in 2015, owing a reported $800,000 to investors, $400,000 in sales tax, and $40,000 in employee wages. She was with her now-estranged husband Anthony Strangis, who her defense team has pointed to as the mastermind and as a controlling and abusive partner.
Melngailis also said that he was the one who ate the Domino's pizza, though she admitted to eating venison carpaccio, fish, and a lamb meatball in this very publication — none of which are vegan, last time we checked.