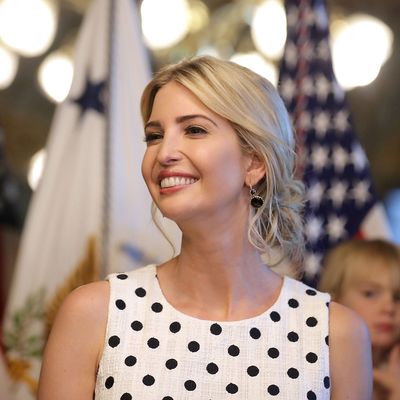 Saudi Arabia and the United Arab Emirates are planning to pledge $100 million to the World Bank's Women Entrepreneurs Fund at an event on Sunday. The announcement is set to take place at Ivanka Trump's event, where she will be meeting with Saudi women "to hear their experiences and discuss opportunities for women's economic empowerment," according to the White House. Ivanka Trump reportedly proposed the fund herself, although an official from the White House said, "She will not solicit funds. This is not a White House fund. This is not something that she will have any authority over in any way."
The Wall Street Journal's source reveals, "The money for the bank's proposed Women Entrepreneurs Fund would be aimed at women in the Middle East … They described the fund's goal as helping women start and run successful businesses by easing their access to finance, markets and networks." It's an interesting conundrum given the lack of rights women face in Saudi Arabia; for one, they're not allowed to drive, which is a huge impediment to things like running businesses.
The U.A.E.'s ambassador to the United States, Yousef Al Otaiba, stated that the contribution shows "our commitment to empowering women in our region and builds on the progress we have made in our country, where women play a role in every segment of society."
President Trump is reportedly planning to address female empowerment in the region as well during a speech on Sunday.