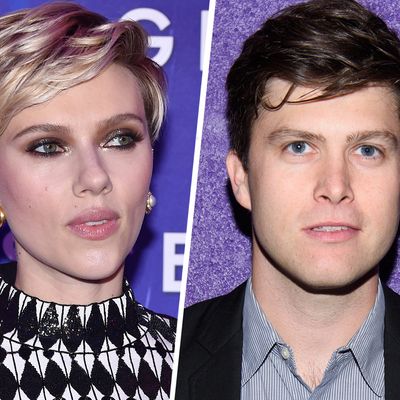 Scarlett Johansson and Colin Jost
Photo: Getty Images
Here's some good Monday morning gossip for you: In what might be the most auspicious case of previously unlinked celebs hitting it off at a party since Taylor Swift and Tom Hiddleston danced together at the 2016 Met Gala, "Page Six" reports that Scarlett Johansson and "Weekend Update" co-host Colin Jost couldn't keep their hands off each other at the SNL after-party this weekend.
Johansson – who recently filed for divorce from husband Romain Dauriac – stopped by the SNL finale to reprise her Ivanka Trump impression, and Jost was clearly taken by the performance. "Scarlett and Colin were making out at the bar at the 'SNL' season finale party at 30 Rock … They would make out a bit, then go back to talking," one observer described. "They were at the bar in front of everyone … they made out at least twice … Then they went back to talking and hanging with other people."
Adds another onlooker: "Scarlett and Colin were flirting and canoodling in full view of everyone at the afterparty, including the 'SNL' cast and crew. They were laughing and seemed to really hit it off."
Yet according to E!, ScarJost has actually been happening for a while. "Saturday night wasn't the first time," claimed one insider, adding that their "fun and casual" fling began after Johansson's hosting gig in March. "They're not in a relationship, but they have fun together. They like each other, but it's not exclusive—at least not at this point," said the source.
Does this mean we can look forward to more Ivanka sightings on Weekend Update next season?

This post has been updated throughout.