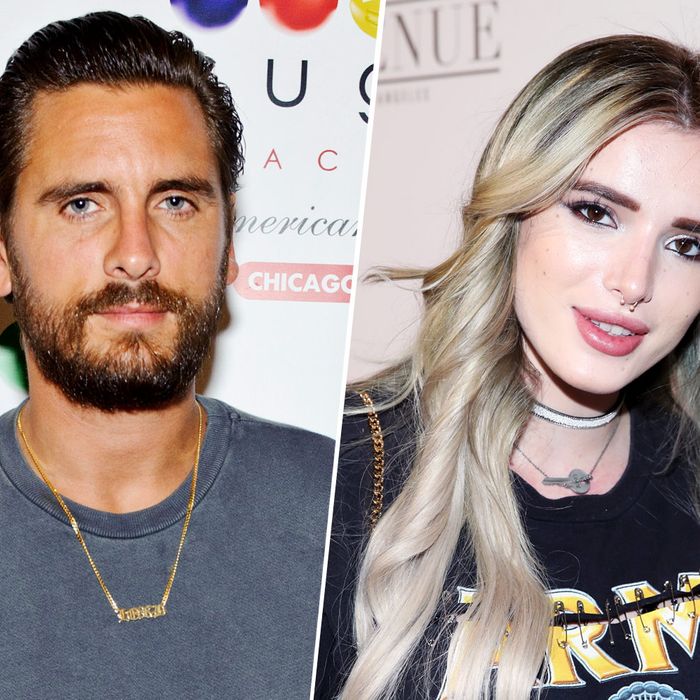 Scott Disick, Bella Thorne.
There is a lot going on right now, and I hate to add one more thing to your running list of worrisome happenings, but here it is: Scott Disick, 33, and Bella Thorne, 19, reportedly went on a dinner date. According to Entertainment Tonight, the pair "had dinner together on Monday night at Catch LA in West Hollywood, California," and then carried on at the Nice Guy and the Peppermint Club until 1:30 a.m. A source claims the two left together in Disick's car.
Disick has been linked to a string of young, sort-of famous women since his split from Kourtney Kardashian last year. The Daily Mail reports that he was spotted with 21-year-old model Ella Ross on Tuesday night, also at the Peppermint Club (a cool spot, apparently). Kardashian, meanwhile, is reportedly dating 23-year-old model Younes Bendjima.
Thorne, a former Disney actress who is currently starring in the Freeform drama Famous in Love, most recently dated 24-year-old actor Gregg Sulkin. Neither Thorne nor Disick has commented on Entertainment Tonight's story, which means there is still hope that it is not true.