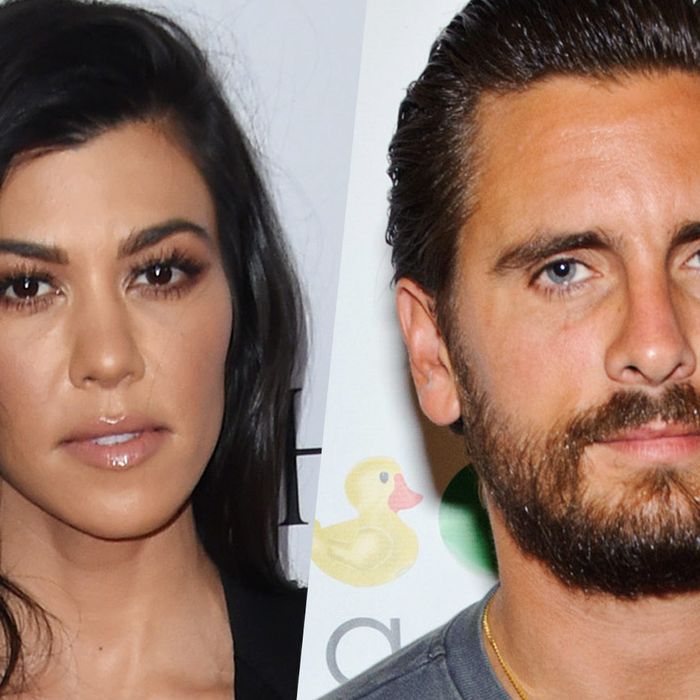 Kourtney Kardashian and Scott Disick.
Photo: Getty
In case you thought it was a mere coincidence that Scott Disick was recently photographed with several different women (including 19-year-old Bella Thorne) in Cannes lately while his ex, Kourtney Kardashian, was also in town with her new boyfriend, well, think again. Apparently this has all been part of Disick's big plan to make Kourtney jealous, and in a completely unsurprising turn of events, TMZ reports that it's not actually working.
According to TMZ, the "cavalcade of women" that Disick has been seen with since arriving in Cannes last week is part of a "well-planned" (hmm) "offensive" to make Kourtney hurt and jealous, since Disick is reportedly upset that she is dating 23-year-old Younes Bendjima.
However, Kourtney and the rest of the Kardashians are reportedly not pleased with Disick's petty campaign, particularly since he is clearly "trying to be photographed with these women." As a result, TMZ claims the family is "done with him," which means they won't be inviting him to dinner or on vacation, or letting him see his three kids, at least until he is sober.
We guess Disick had to learn the hard way that not all post-breakup paparazzi photos are as great as Mariah Carey's.