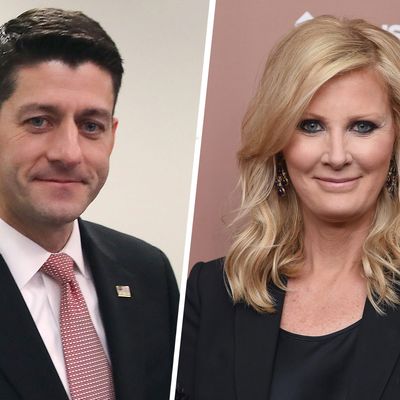 Paul Ryan, Sandra Lee.
Photo: Getty Images
Every once in a while there comes along a piece of gossip so unexpectedly delicious — much like an appetizer made of Pillsbury crescent rolls, Prego jarred sauce, and Kraft shredded cheese — that you want to savor it slowly. This is one of those times.
On one side we have Sandra Lee: star of the Food Network's Semi-Homemade With Sandra Lee, creator of the greatest Halloween special of all time, and longtime girlfriend of New York governor/haunted-house resident Andrew Cuomo. On the other we have Paul Ryan: Speaker of the House, fitness enthusiast, and general fan of taking away poor people's health care.
These two unlikely enemies crossed paths during Tuesday's Fox & Friends. Here's what a source told "Page Six" about the encounter:
Paul Ryan was on the segment before Sandra, and the hosts asked him to hang around for Sandra's cooking feature to try the food. But in the break before her demo, she said to Ryan and some others there, "I need you to go away so I can collect my thoughts, prepare, and get ready for the segment."

It wasn't a very friendly Fox & Friends. Sandra wasn't even comfortable with having Paul Ryan on the same stage as her during the commercial break, never mind on air. It was very frosty. She simply does not believe in anything Ryan believes in.
Someone else added that "Steve [Doocy] brought Ryan over to the kitchen to try the chocolate-covered bacon, and Sandra looked annoyed. She made a dismissive remark and looked away."
Ryan always struck me as more of a protein-shake-and-grilled-chicken-breast kinda guy anyways.