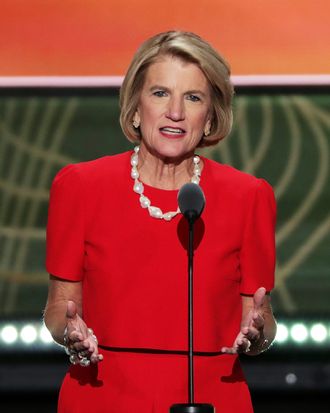 Senator Shelley Moore Capito was invited to a meeting about the bill on Tuesday.
Photo: Alex Wong/Getty Images
Senate leadership is reportedly moving to "address the optics" of 13 men working on a health-care bill that will disproportionately affect women after several women senators voiced their displeasure at being excluded. According to the Hill, the all-male group revising the American Health Care Act invited at least one woman to a meeting on Tuesday afternoon — Republican Senator Shelley Moore Capito of West Virginia.
"We're going to be talking about Medicaid; that's the issue I'm concerned about," Capito — whose state expanded Medicaid coverage under Obamacare — told reporters. When asked if she'll return for subsequent meetings, she said, "I don't know."
Along with Capito, it's possible that at least one other woman was included in Tuesday's meeting; BuzzFeed News' Paul McLeod tweeted that Iowa Senator Joni Ernst was invited, too, and a senior White House official told CNN's Elizabeth Landers that women would join the group. "You'll see the optics addressed," the official added.
Meanwhile, Senate Majority Leader Mitch McConnell addressed the controversy by insisting that all Senators would eventually be involved in crafting the bill, therefore women were never excluded in the first place, according to BuzzFeed News' Tarini Parti:
Senator Orrin Hatch echoed McConnell, telling Bloomberg, "[Women are] not excluded. They can come any time they want to as far as I'm concerned."
The all-male working group was criticized by GOP and Democratic senators alike. "I want to make sure that the input of women is received," Republican senator Lisa Murkowski told Bloomberg, while Senator Kamala Harris tweeted, "The GOP is crafting policy on an issue that directly impacts women without including a single woman in the process. It's wrong."
Good work addressing those pesky optics, everyone.