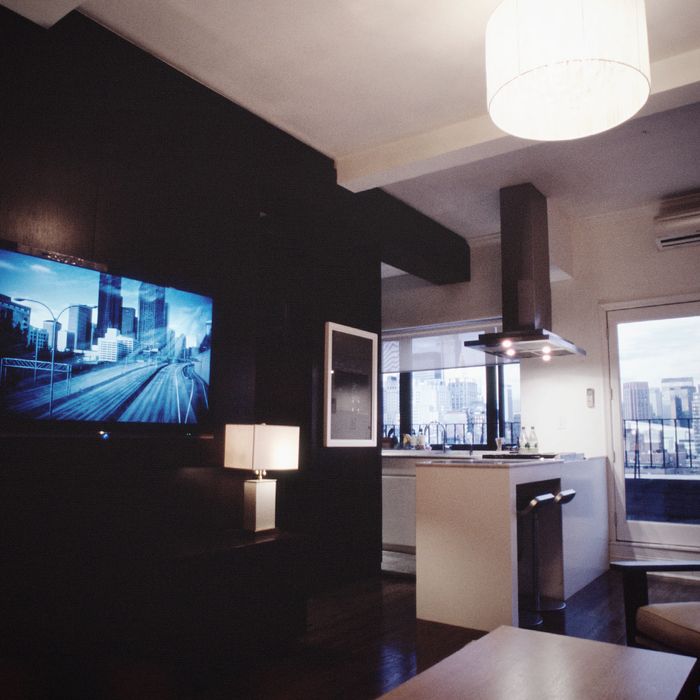 Get Sex Diaries delivered every week.
New York's Sex Diaries series asks anonymous city dwellers to record a week in their sex lives — with comic, tragic, often sexy, and always revealing results. This week, a single lawyer seeing several men, including one her daughter dislikes: 47, straight, Westchester.
Day One
10 a.m. I wake up slightly disoriented. I look around: I'm in my "Daddy's" bed, with a minimal hangover. I'm not a drinker — I'm a smoker (not cigarettes) — but I drank probably six Guinnesses last night while at karaoke. (Yes, I went to karaoke.) I experimentally wiggle my limbs and remember that Daddy had the Magic Wand out last night. He went to work on me, throwing my legs over his shoulders and pressing all the levers. He was so successful that I fainted … and landed wrong and slightly sprained my wrist.
I prod and poke until he's conscious and get him to take me home. I am on a no-driving strike: I hate driving, and feel there's no reason to do it when I have a legion of willing suitors and a bus line at the corner of my street.
While we're saying good-bye in my driveway, my daughter, 25, stalks us from the house: She hates my Daddy. I'm hoping she doesn't know the true nature of my relationship with him, but it's something about our dynamic that she loathes. I take it with a grain of salt and so does he: She's around because she rents the upstairs flat in my two-family house. My kids' dad and I divorced in 1997. He has his own relationship with the kids; I don't deal with him.
Noon I rouse my son. I harass, annoy, and alarm him into getting up to fix the lawn mower. He's 20 and a real piece of work. I'm late for my usual weekend routine of waking and baking. I pack my bong with ice and sit back on my couch, put on Netflix, and pick up whatever Marvel series my son is watching lately.
4 p.m. I get a text from my sweet pea, B. — just like with Daddy, B. and I met online. He's complaining about chores, which soon gives way to suggestive texts. I haven't seen him in over a week, because my mother, who's 86, was staying with me. My appetite comes roaring back. I ask him to send me a picture, not of his face.
5 p.m. We go back and forth like this. Finally, he offers to come pick me up. He lives about half an hour away, and promises to drive me to my office tomorrow.
7 p.m. I'm packed and ready when he arrives. My kids both love B.; I've been seeing him for about three years. He's a widower with two late-teenage kids. On the ride to his house we're both squirming with excitement.
Once we're there, it's upstairs and clothes off. His kids have gone to the city for the night — we can whoop and holler all we like. I'm so wound up I start to come as soon as he touches me, all the while I'm stroking him from tail to tip as he shivers with delight. It's not too long before he comes. He blows the load all over his own chest. We laugh and laugh.
10 p.m. It's getting to the time when food-delivery options are dwindling. We order a pub-food dinner and vape until it arrives.
Midnight The boys are back! We're asleep when I hear the vague sounds of them getting home.
DAY TWO
11 a.m. I decide against going to my office today. I don't have any appointments or court scheduled (I'm a lawyer), so I'll use the day to catch up on motions and paperwork from B.'s bed.
1 p.m. B. joins me again in his bedroom. He slips beneath the covers with me and grabs my hand, then rolls on top of me — soon we're a storm of rhythmic motion. I bear down on him until he pops like a cork. Nap time!
3 p.m. I start to return phone calls, answer emails, and prepare for my schedule on Tuesday. With a tablet and a smartphone, I can keep tabs on most things.
4 p.m. What are we doing about supper? B. and I go to the grocery store, planning his favorite Italian dinner. We get home, I start cooking. I make mozzarella-stuffed meatballs, a simple marinara, and put it all over penne. I throw garlic bread into the oven and add the apple pie I made B. buy. An entire herd of young men come through, friends of his sons'.
7 p.m. B. never took me home! I call to make sure my son and daughter are minding the house. They get along like cats and dogs and I dread leaving them alone with each other. My daughter complains about his loud music.
9 p.m. By the time we get upstairs, it's dark outside — and B. has to be at work tomorrow at five, which means he'll be driving me home around 4 a.m. Bedtime!
DAY THREE
3 a.m. Our favorite thing is waking up in the dead of night for sex. We get to it silently, moaning into each other's shoulders as we both come.
5 a.m. Home now. I don't have anything scheduled until 11 a.m. I check the complaint for divorce on my calendar today: good, mostly resolved. I take a shower and sleep until 9.
11 a.m. At work. The usual grind.
5 p.m. I'm at my desk, cranking out an order for contempt. I share an office with two other attorneys and we all share a secretary. R., the main office holder, comes in. Our secretary takes off, and it's just R. and I working in our respective offices. He comes to my office door and we start talking about the federal trial he has coming up. I offer to relieve him of some of his appearances that week, and we swap calendars. He makes a remark about how tense trial preparation makes him. I joke about how I had just offered B. my services for tension dissolution. We've never flirted before. But this seems a little flirty? I don't know. I have a lot of work to do.
10 p.m. Finally home! I cook something quick and hit the bed. The first night in my own bed since Friday.
DAY FOUR
9:30 a.m. I skulk into work, still drained from my late night. I do what I must, and deal with my clients as they call and arrive.
11 a.m. R. arrives to the office, and we greet each other with our regular, friendly wave: Maybe we weren't flirting at all?
5 p.m. Quitting time.
7 p.m. At home, with my daily bowl, enjoying life. I text H.B., the man I was with for almost 20 years. I love him to death, I do, but I can't deal. We've been slowly breaking up for several years, and my new "slut" stage has taken him aback. Long story short, I promised to leave him if he didn't sort his own personal-life shit out (some unresolved family issues) and get right — and that's what I did. I was almost totally monogamous with him for almost 20 years.
9 p.m. Daddy texts me. We go back and forth bitching about our days. He wants to see me tomorrow night, but B. is supposed to come over after work. I tell him how tense and horny I am; since the unexpected thing with R., my little imagination has been in overdrive.
9:30 p.m. My daughter and I are eating junk and catching up on a couple of episodes of Empire when Daddy tells me he's coming over to attend to my needs.
10:30 p.m. I know he feels bad about making me pass out last weekend. He kneels by my bed, throws my legs over his shoulders, and eats my pussy until I come on his face. Then he stands up and slides inside me, gently, and joins me in a slow, wavy orgasm.
12:30 a.m. We lie on my bed and flap gums, making plans for the weekend. All my guys know about each other — I keep it transparent so feelings don't get hurt, but it's pretty much inevitable. I give him a kiss and send him on his way.
DAY FIVE
9:30 a.m. In court, doing my thing.
11 a.m. Back in the office. Work, work, work.
1 p.m. A late client finally shows up!
4 p.m. I get home to see my H.B. has cut my lawn. I love him so much.
5 p.m. I have a conversation with my son about his life choices. He got a job doing construction and now he's telling me how tired he is. I tell him to work smarter, not harder. I tell him his problem is laziness, and explain that everyone must do shit they don't want to. I illustrate the point by reminding him how I worked, went to law school, and raised him and his sister, doing what I had to do. So now, when I sit on the couch, or I bitch about having to go to my office, or smoke a bowl first thing on a Saturday morning, I've put in a quarter-century of eating shit and running myself ragged. I was 24 before I ever got high, and I smoked maybe once a year until I hit my 40s and my kids were grown. Everything I had went into my kids; now, I put that energy back into myself. I suggest that if he'd like to be able to sit on his couch and smoke weed in his own place, he needs to go to college, decide what he wants to do, and start plowing away.
7 p.m. Thunderstorms come in. I order from Grubhub, sit on the couch, and catch up with the rest of Feud.
11:45 p.m. Bedtime.
DAY SIX
8:45 a.m. I have an appointment with my aesthetician around lunchtime, so I abandon my public-transportation cause and drive over.
1 p.m. Spa-ish day. My aesthetician is a sweet European lady who has become a good friend — we laugh through my treatment at the antics of the men and children in our lives. They both suck!
3 p.m. I have overbooked today, and made plans with both B. and my Daddy. B. I choose B.
7:30 p.m. B. is off work. We're chilling on the couch, listening to music, watching hockey. We order pizza and two salads. The kids show up — everybody's happy.
9:30 p.m. I wanted to be up for Bill Maher, but no luck. B. has to be up by 4 a.m. Resentfully, I lie next to him in bed. I'm never gonna get to sleeeeee …
DAY SEVEN
3:30 a.m. I hear one of my cats jump on the bed, and I feel B. start to play with him. The light motion makes me open my eyes. I snuggle up to him and he places his hand on his morning wood. Now's a fine time! I make him holler and then get up to get his stuff together for work. It's a little service I enjoy doing for him.
4:45 a.m. My bae is gone, back to bed. I put an episode of Forensic Files on and drift back to sleep.
10:30 a.m. There's a cat stepping on my face. My son failed to point out that the house is empty of both cat food and toilet paper; the latter fact I learn about a minute too late. While out to get supplies, I pick up a half-dozen bagels and bialys.
1 p.m. I'm home, it's raining, and all my animals have been fed: Time for a nice bowl! Smoking, I get to thinking about sex with my Daddy. I don't usually use "safety" words, but I'm not opposed to them. And I never, ever put myself in an unsafe situation. It's all in good fun.
3:30 p.m. B is done with work, and he shows back up. I'm glad to see him!
6 p.m. My daughter and her ex-boyfriend come down to greet B. Pretty soon, we're all relaxing on the couch and passing the bong. B. kills a six-pack of Bud.
7:30 p.m. B. has crashed on the couch. I order a shitload of sushi from our favorite place.
8:30 p.m. Murdering sushi and watching sports
10 p.m. Another early night with my B. The sex may not be as exciting as it is with my Daddy, and we may not have the history I have with H.B., but my kids get along with B. and that counts for a lot. Tonight, I'm in bed with exactly the person I want.

Get Sex Diaries delivered every week.
Want to submit a sex diary? Email sexdiaries@nymag.com and tell us a little about yourself.