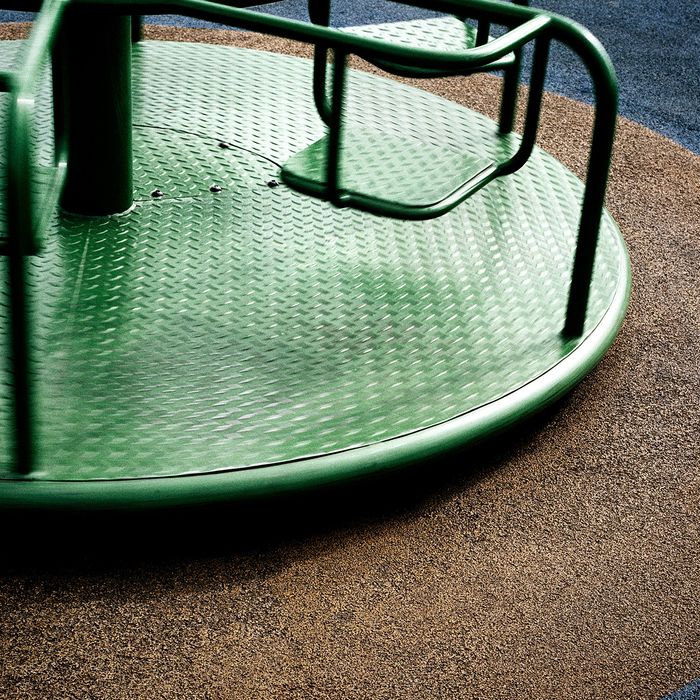 Get Sex Diaries delivered every week.
New York's Sex Diaries series asks anonymous city dwellers to record a week in their sex lives — with comic, tragic, often sexy, and always revealing results. This week, a happily married woman who crushes on a local mom: 42, bisexual, Carroll Gardens.
DAY ONE
6 a.m. I was up all night with my almost-2-year-old. He has a bad cough. My husband stayed in bed because he has a big meeting today. He would have gotten up to help, but I insisted he sleep. He's a male nurse with long days — I'd rather me be tired than him.
9:30 a.m. My son is napping so I have a second to think. It's been a hard week. Someone we know, a lovely acquaintance from the neighborhood, passed away. Plus, money is very tight right now, with summer camps and preschool on the horizon. Lots of stress.
9:40 a.m. I turn on some porn and take out my favorite vibrator (what I always do during nap time). I usually make myself come twice. Normally from watching fetish porn — hard spankings, rough sex. I've never done any of that in real life; I'm not interested in it at all.
1 p.m. My kid is still not feeling well and it's raining. The day is dragging. Is it too early for a glass of wine?
1:05 p.m. Nope.
3 p.m. I finished the bottle. My kid's sitter, who is more like a mother's helper, comes in the afternoons so I can do a few things around the house. I'm embarrassed; I know I smell like alcohol. I don't know what I'd say, so I don't say anything. Luckily, she takes him to a playdate in the neighborhood. I tell myself if I do the dishes and one load of laundry, I can nap the rest of the time.
6 p.m. I didn't do either chore. All I did was nap. My son is home now and I'm feeling a little refreshed. But not as much as I'd like.
9 p.m. My son is asleep and I crawl into bed. My husband is doing a few things around the house.
9:30 p.m. He crawls into bed with me. We make love. It's always good sex with him, in that I have orgasms most of the time, as does he. It's not porn-star sex, but it doesn't need to be. He does need to go down on me more, though. I remind myself to remind him about that.
He and I met at a sport's bar. (I was there to meet guys, obviously.) My husband is actually a former athlete — so he's a "murse" who looks like a football player. I've always liked jocks!
DAY TWO
9 a.m. It's nice out, so we're at the playground. There's another neighborhood mom, one I see quite often, that I think is really pretty and interesting. Before I got together with my husband, I was with women a little. This was before the online-dating era, but I think if I were single now, I'd date a lot more women. I like the softest and tenderness of a woman. When we have sex I often pretend my husband is a woman wearing a strap-on. A few of my friends have said they do that too.
11:30 a.m. The pretty mom didn't show up. We're home having lunch and then it'll be nap time. I work part-time in the afternoons, so soon I'll need to get going …
2 p.m. I'm a celebrity assistant for a very low-key celebrity, three days a week, half a day each time. I really like her. There's nothing divalike about her and nothing too hard about my job. I'm very organized and helpful by nature; this job really suits me. I've always worked as an assistant to celebrities, some bigger than others.
8 p.m. My husband does the night routine with our son on the days I work. I come home to leftover pizza and a clean house.
9:30 p.m. I totally would have had sex with my husband tonight, but we both fall asleep before anything can happen.
DAY THREE
9 a.m. It's another nice day, and the beautiful mom is at the playground. She's a single mom, but I don't know much more. She might be gay? I'm not sure. We say hello and I give her kid a little kiss on the head. I am a little friendlier than usual, probably because I got eight hours of sleep (unprecedented). "Where is he going to school next year?" I ask the beautiful mom. She names a very fancy school, which sort of surprises me (and sort of turns me off, if I'm being honest). I imagined her as a struggling artist of sorts, but perhaps she's just a spoiled rich girl like all the other moms. Or maybe none of the above. I shouldn't judge.
Case in point: Who knows what people think about me? I go to glamorous events and wear nice things, all because of the woman I work for (she gives great gifts) — but I'm hanging on by a thread, financially.
9:40 a.m. The main takeaway from my interaction with the beautiful mom: We exchange numbers for a playdate. This is minor, but her name is exactly what I thought it would be. It's not Skyler, but something just like it.
3 p.m. I'm at my job. My boss is away today so "work" is just hanging around her amazing apartment, taking care of little loose ends. She has millions of dollars but not such a fulfilling personal life. Despite the money and the homes, I think of my son and know without a doubt, I'd rather be me than her.
4 p.m. My husband's birthday is next week. I try to think about what I can get him in the city on my way home. He and I have been together about five years. I would say our marriage is good but not great. We don't fight. We still have sex. But I'm not madly in love with him — maybe that will come back once we're out of the thick of things with the kid? We are monogamous, and we are best friends. Would I have an affair? Maybe. But like I said, only with a woman. That seems less toxic (though I know intellectually that makes no sense whatsoever).
7 p.m. I get home just in time to read to my son before bed. I love being with him on days that I'm rested. Sleep makes all the difference.
9 p.m. My husband and I make love; it's missionary, and fast. Feels great, like it's just what I need …
DAY FOUR
11 a.m. It's rainy again. Which means parenting while day-drinking. I'm starting to realize this might be a problem. I also think it's a whatever-gets-you-through-the-day thing, so I'm not worrying about it too much at the moment.
11:30 a.m. My husband FaceTimes us from work and sees the glass of wine in the background. He makes a little joke about it, but he has a weird tone in his voice that makes me feel bad. I pour another glass …
Noon I text "Skyler" about coming over for a playdate. My apartment is still clean-ish thanks to my husband's tidying up the other day, so it won't be that embarrassing if she comes over. However, she writes back that she's at work and "How about tmr?" The time she suggests is my son's nap time, but I say it'll work fine.
5 p.m. We are all home together as a family. It's the best. My husband and I are cooking while playing with our son. He opens the bottle of wine he brought home. Enabler! He doesn't mention my day-drinking, probably because he had a pretty intense workday and needs to take the edge off himself. It's probably too heavy of a topic to add to the already-heavy day he's had.
10:30 p.m. No sex. Warm, snuggly sleep instead.
DAY FIVE
5 a.m. My kid is up so early and all the alcohol I consumed yesterday has me feeling like shit. My head hurts. I'm really fucking tired.
8 a.m. We've been playing for three hours while my husband sleeps. Now my husband is off to work. I feel resentful that he gets to leave the house. I'm in a fucking shitty mood.
9:30 a.m. I put my son down early so that I can shower. It's my only hope for feeling better. I masturbate in the shower. A quick, almost-violent one using a lot of slippery soap. Skyler is coming over with her kid in an hour. I don't even know if my kid will even be up.
2:30 p.m. I'm at work now, thinking back on the playdate, which was kind of awkward. The kids only wanted to play with their moms, not with each other. And Skyler was a little reserved, hard to talk to. She did say she's bisexual. I told her that I am too, and she seemed to know that about me already. I have no idea where my assumption comes from, but I think she lives a very privileged life, which is just boring and unsexy to me. I don't know; I'm still headachey and in a crappy mood.
3:30 p.m. My boss has me doing a lot of physical labor today and I'm not in the mood. Dragging. This day needs to end!
9 p.m. I'm in bed! Finally.
DAY SIX
9 a.m. It's the weekend so my husband is doing a lot of the morning work while I'm lounging in bed. We want to get out of town this weekend, but we have nowhere to go and no money to spend, really. I try not to whine about these things. It could be way worse!
10:30 a.m. Skyler texts to see if we want to come to her place for the afternoon — she has an outdoor space with a BBQ and sprinklers for the kids. My husband has to get some paperwork and other bullshit done for our kid's school next year. We decide I'll go alone with our son.
5 p.m. So that was more than what I expected: Skyler was definitely all loosened up. She was in a tank-top bodysuit thing and there was wine out, which we drank copiously. The kids had fun. We were flirting a lot — she blatantly asked if I was monogamous. I said, "So far?!" No, we did not take it any further than that. Our kids were there! We just had a lot of fun.
9 p.m. My husband and I have a really great sex session. Of course I'm pretending he's Skyler fucking me with a strap-on …
DAY SEVEN
9 a.m. Again, I get to sleep a little and lounge.
11 a.m. We decide to go see friends in Westchester after our son's nap. I'm excited for a little journey. I pack snacks and the usual kid things. Everyone is in a great mood, even me!
1 p.m. It's a shitshow getting there on MetroNorth, but hanging out at a real house with a real backyard is worth it. Our friends are great cooks, too. We eat a ton. I drink only water. I think my husband is watching my drinking a little bit lately and I don't want to give him reason to be concerned.
6:30 p.m. We're finally home. Even a short day of travel with a kid can wipe you out — all three of us are ready to crash.
7 p.m. Put the kid to sleep and eat a sandwich. Then bed, dear bed …

Get Sex Diaries delivered every week.
Want to submit a sex diary? Email sexdiaries@nymag.com and tell us a little about yourself.