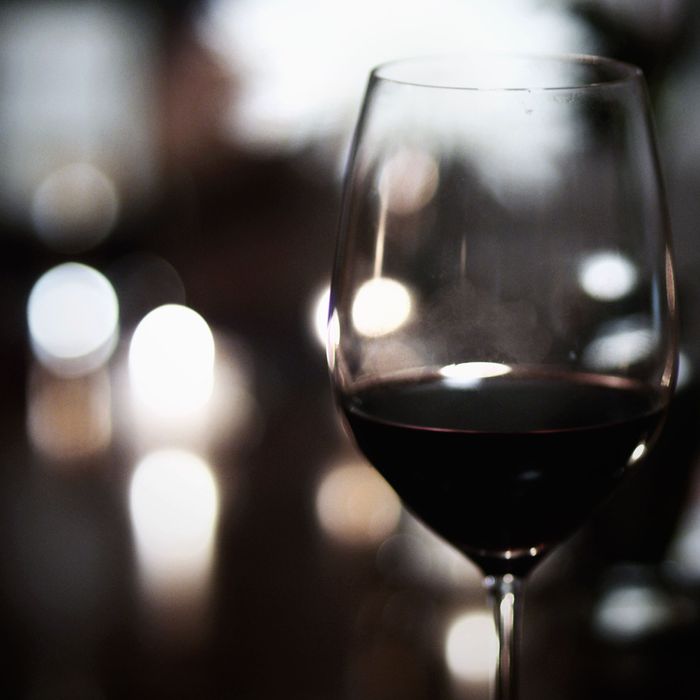 Get Sex Diaries delivered every week.
New York's Sex Diaries series asks anonymous city dwellers to record a week in their sex lives — with comic, tragic, often sexy, and always revealing results. This week, a French guy pining after his ex while a British paramour visits him in New York: 32, straight, single, Williamsburg.
DAY ONE
9:30 a.m. I am up very early for me. I work in nightlife and typically go to sleep around 3 a.m. Last night was no different, but I'm up early today because a woman I've been seeing, Vivian, is coming to town from London.
1:30 p.m. Vivian texts that her plane has landed. I like women from London, but I like women from everywhere.
3:30 p.m. It takes a while for Vivian to make it to Williamsburg — I use the time to clean up my apartment and buy some food for the kitchen. I never eat at home but want the place to be inviting.
4 p.m. I am a little nervous to see her. I feel inadequate: European women are less excited by an accent; they make you work harder. Plus, Vivian is a very beautiful, very stylish woman. She is out of my league. (Or is it that I'm out of her league? That phrase always confuses me.) We met at a club in London last winter. We were very drunk and had been dancing all night. We ended up having sex at my friend's flat nearby. I had to fly back to New York the next day, so we've been emailing and such ever since, about three months now.
5 p.m. Vivian looks great. She is quite sophisticated. Very pale, with long, frizzy blonde hair. She has a nice body, thin, but not too skinny. I want a woman with a woman's curves, not a waif. We kiss hello, on the lips. We're going to need some alcohol.
8 p.m. I take her to a cool restaurant in Williamsburg. I am friendly with the owner so we get a good table and extra good service. The conversation is great. We are both smokers — we go from the table to the outdoors and back, a few times. It's a fun night. One bottle of red wine down …
11 p.m. We are back at my place, listening to records and having sex. She turns me on, but I am not sure I turn her on. I feel self-conscious about my performance. Frenchmen aren't such great lovers, despite the myth. Still, we both come and fall asleep.
DAY TWO
7 a.m. She is up very early because of the time difference. I can tell she wants some free time in New York, so I suggest a few coffee shops for her to start at. We'll connect later.
11:30 a.m. I don't wake up until now! She hasn't texted me, which means she is fine without me — or pissed off that I stayed in bed. She isn't here for work; she is here to visit me. But since I have a lot of work to do it's going to have to be a balance.
12:30 p.m. We meet for lunch in Greenpoint. Our conversation is very good, but I feel not quite myself with her. She is very forward and asks me about my love life. There are no allusions here. We know we both have other dates and lovers.
1 p.m. My love life. I tell her the truth, because why not? I have had some casual relationships, but there's one woman who's been the center of my everything, Emily, for about six years now. The problem is, she lives in L.A., where she's a successful doctor (a surgeon), and I live in New York and invest in restaurants and nightclubs here. It sounds like a strange mix, the doctor and the clubbing guy, but we met at Columbia (me, business school and her, medical school) and have loved each other very much since the day we met.
We were faithful for several years, but about two years ago, Emily told me she'd discovered she had genital herpes. There's no way to really trace when and where it started, she said, but my mind went into a tailspin. To this day, she swears she did not cheat on me. There is a good chance she's been a carrier since high school, even. Anyway, I was never able to shake the insecurity about her cheating, and we have been on and off ever since. I don't care that she has herpes. She takes the medicine … it's not a big deal. A lot of people have herpes. I don't understand why it's so taboo — essentially, it's just a skin problem. So it's not that there's an STD involved; it's just this bug in my brain insisting she got it while sleeping around — even though she completely denies that. I tell Vivian all of this.
3 p.m. Vivian is unfazed by the story — she says her ex-boyfriend had herpes too and it was fine, it didn't bother her. We both agree people should talk about STDs more because it's a silly thing to feel so ashamed about. But she's also not particularly comforting about the deeper issue, the trust. It might be her British way. Perhaps I overshared.
5 p.m. I'm working at my desk, at home, and Vivian sneaks up behind me. She's wearing … nothing. We do it all over the apartment. After I come, I go down on her and she comes. She is extremely wet, maybe the wettest I've ever experienced.
8 p.m. I have to go to one of my nightclubs. Vivian's meeting girlfriends out for dinner and then they'll join me at the club.
Midnight Vivian rolls in absolutely wasted, as are her friends. It's a really fun time.
2 a.m. We go home and pass right out.
DAY THREE
10 a.m. It is Emily's birthday. Right now, we are getting along quite well, but she's so busy at work … there's no time for fighting — or rekindling. I would marry Emily in a second if we could get things to a good place. I'm ready to give up my work and everything here to be with her. Something has come over me where all I can think is, "Love comes first."
11:30 a.m. Vivian is very hungover. I ask if she wants the apartment to herself for a few hours. She says yes.
12:30 p.m. I wonder if Emily got my birthday present. I had a vintage doctor's bag monogrammed and sent her way. I wanted it to arrive in the morning right before work … which, in L.A. time, would be around now.
1 p.m. Emily calls. She loves the gift. She says the only thing that would make it better were if I delivered it personally. I'm so tempted to get on a plane right now and see her. I don't tell her Vivian is visiting but only because she doesn't ask. We have no secrets; we just never have time, because of her work, to tell each other everything. I ask if she wants me to fly out, for real, and she says yes. Fuckkkk: Vivian …
4:30 p.m. I stop by my apartment and Vivian is asleep on the couch. I am loud enough that she wakes up a little. She mentioned that it would be a short trip, but I don't know exactly how many days she plans on staying. How do I ask this without sounding like a complete asshole?
7:30 p.m. We are getting Thai food at a neighborhood joint. I come right out and ask when she's staying until. She says only one more day and then she's flying to Chicago for a job thing (she works in the wine business). Ah, great.
11:30 p.m. Vivian is out with a girlfriend, and I'm at work. I think this girl friend might actually be a girlfriend because she texts to say she'll be sleeping at her place with some kind of lips emoji. Hey, I'm French, I love it.
DAY FOUR
10:30 a.m. It's the last day of Vivian's visit, and I think the fire has burned out. It was fun while it lasted. I booked a trip to see Emily at the end of the week. The more women I see, or sleep with, the more I want Emily. I tell Vivian about the plans to go to L.A. — she seems excited for me.
1 p.m. It's the last time I'm going to see Vivian, probably forever, so we have a nice lunch with Champagne. She says she can tell I'm madly in love with Emily and thinks I should "Go for it!" It's a nice talk. I call an Uber to take her to the airport. Ciao, Vivian.
9:30 p.m. The rest of the day is devoted entirely to work and loose ends relating to work. Boring stuff!
DAY FIVE
10:30 a.m. I am happy to wake up alone and with my own habits and rituals. I make a coffee and sing in the shower.
11:30 a.m. I have a doctor's appointment because of pain I've been feeling in my leg. He says I might need to do physical therapy but that it's nothing serious. Good, I was nervous. He's a bone doctor but I ask him if it's true that genital herpes can be contracted in various ways, not even necessarily penetrative sex (oral sex, kissing, etc.) — he confirms what I already know. It is ridiculous I've let this thing with Emily turn into such a big issue when I know in my heart she didn't cheat on me. Why can't I let it go?
4 p.m. I get a haircut, try to find more birthday presents for Emily, and prepare for my trip to L.A. tomorrow.
3 a.m. It was a long night at work. I am feeling over it. I wonder what I would do for work if I lived in L.A.? I did go to business school. But no one cares about that, do they? (I don't blame them.)
DAY SIX
10:30 a.m. I wake up to some crazy news regarding my partner at one of the clubs. I can't get into it here, but he might be going to jail. It's all shocking. I typically have good instincts and I really liked this guy. The news is so damaging that it makes me think I should stay in town and deal with the aftermath.
12:30 p.m. I call Emily. I tell her the whole story and leave the decision in her hands. I'll fly to L.A. if she wants me there because she is my priority (and I'm determined to make sure she knows that from this point on, always). But if she doesn't care either way, or if she thinks I owe it to my business to stay, then I'll do wait to come out. Basically I just want her to know that she comes first. She tells me to stay and deal with it. She doesn't want me there, on her only days off in a month, if it means being on the phone the entire time. I decide to stay in New York. I really don't have a choice.
11:30 p.m. Dealing with this drama all day and wishing I were landing in L.A., in Emily's arms. I call her to tell her how much I love her. She returns all the sappy declarations. I don't know what has come over me, but I could propose to her right now. I don't. But I could.
DAY SEVEN
10:30 a.m. I don't masturbate like I used to, but this morning I do. I come into my T-shirt thinking of Emily and her breasts. Okay, I might also think of various porn stars doing very dirty things to me. But Emily too.
1 p.m. I'm meeting with my lawyer. He likes hearing stories about my life. He always jokes, "What's the quickest way to get your wife to stop blowing you? Marry her!" I think I got that wrong. But it's some version of that.
5 p.m. This work stuff is a drag. I decided to fly out tomorrow and see Emily. She will have to be at work, but being with her for even just a few hours of non-work will be worth it. Plus, it's rainy in New York and I need a break. I book the trip without checking with her (seems more romantic that way) and then text her the confirmation email.
5:15 p.m. She texts back that she is "so, so, so, so, so happy" I'm coming. I guess it was the right move.
11:30 p.m. I am in the thick of it at work. All I can think of is tomorrow.

Get Sex Diaries delivered every week.
Want to submit a sex diary? Email sexdiaries@nymag.com and tell us a little about yourself.