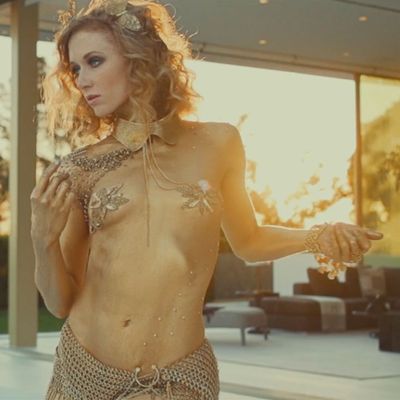 When you have $100 million to blow on a mansion, real-estate agents are forced to devise bigger and better ways to get your attention (and your money). Enter the luxury-home "movie trailer": as GQ points out, the slow-loading 360 virtual tour has been replaced with high-budget, supposedly enticing videos shot on the property. And after watching the latest one — made for the $100 million Opus, which bills itself as "Beverly Hills' most expensive property" — you'll find yourself rethinking your feelings on Los Angeles, the color gold, nudity, swimming pools, living-room couches, cars, sex, and even houses themselves.
The vision board for this particular cinematic experience is "Cribs episode in hell." You see a woman pleasuring herself while wearing a VR headset. You see a flash of someone's obvious sexual fantasy about a Son of the Harpy come to life. You see nearly naked women in gold body paint follow the protagonist around the house, writhing seductively on cars and on the roof, but also sitting down for a nice dinner in the spacious living room. (It's unclear if they're hanging out or just haunting the house.)
And we thought sorority recruitment videos were as deranged as things got.