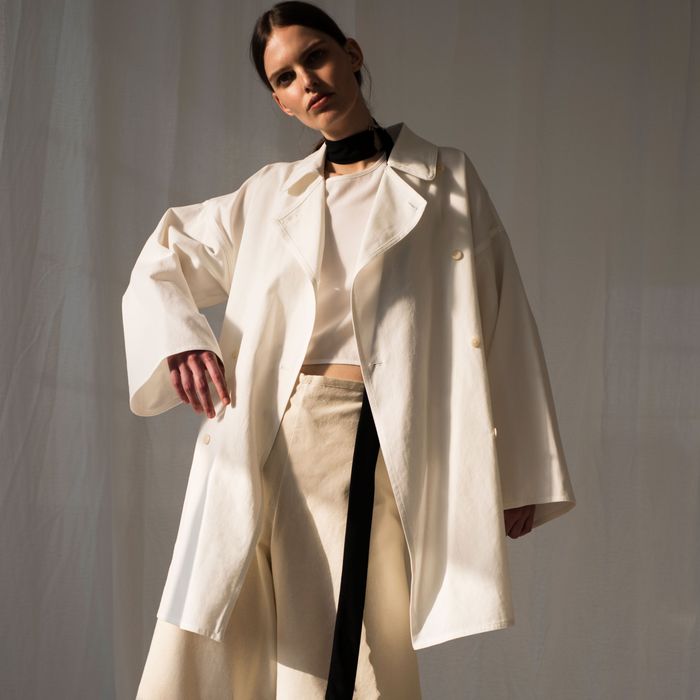 Shaina Mote SS17.
Photo: Courtesy of Mode PR/Shaina Mote
Is it really possible to design for the future? If you ask L.A.–based designer Shaina Mote, founder of her eponymous line, the answer is a definitive yes — although, in her case, she's focusing on what people will be wearing decades from now, not merely next season. "For years I've been handling really beautiful high-end vintage like Jil Sander or pieces from the '40s," she says. "When you turn something like that inside out and you see the care that's put into the construction, it's something that's so rare these days. It's my hope for my own designs to have lasting construction, and to still be relevant in 30 years."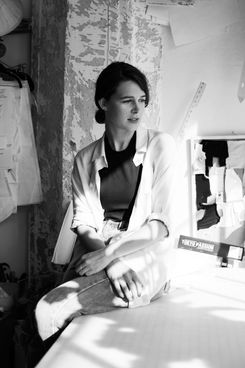 By all appearances Mote's clothing is deceptively simplistic: a black linen long-sleeve dress, for example, or a billowy high-neck top. But there's always an element of surprise — a cutout here, a cross-over detail there. She eschews ornamental buttons and trim, and her latest collection consists of only three colors: black, white, and a rusty shade of café au lait. "For three years my collections would come out and it was just black and white and I realized like 'Okay, it's time to expand a little bit here.'"

The lack of color and frilly details are what make Mote's designs so compelling. The wearer actually has to focus on the clothes: How they fit, the intricacies of the threading. "I tend to strip things down to a pure expression to give them a sense of timelessness," she explains. "To allow for something that can be worn time and time again, year after year." Despite Mote's strong emphasis on construction, she had no formal design training aside from a brief pattern-making apprenticeship in her native L.A. Her education comes from her experience working as a vintage buyer and later creative director for retail shop Wasteland in California.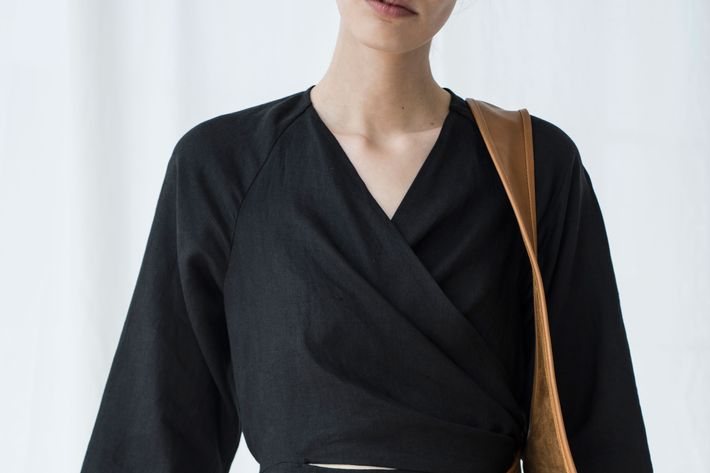 Working in fast fashion shaped Mote's own design process. "I was working at a fast-fashion company that was producing trends in and out in what seemed like minutes," Mote says, recalling the three years she spent as a creative director at Wasteland. "I had a direct line of sight into how things were actually produced, and I realized that this trend-based industry can create a lot of excess and a lot of waste." Now, Mote rejects the cheap-labor model and produces all her clothes in Los Angeles, where she works with a small group of family-owned factories.

She has also made an effort to source fabrics that are more environmentally friendly over nonbiodegradable fabrics that emit fossil fuels during production."I'm trying not to work with fabrics like polyester, which take a long time to decompose, and instead use biodegradable fibers like tencel or cupro, which are derived [from] wood pulp and require less resources like water to create," she says.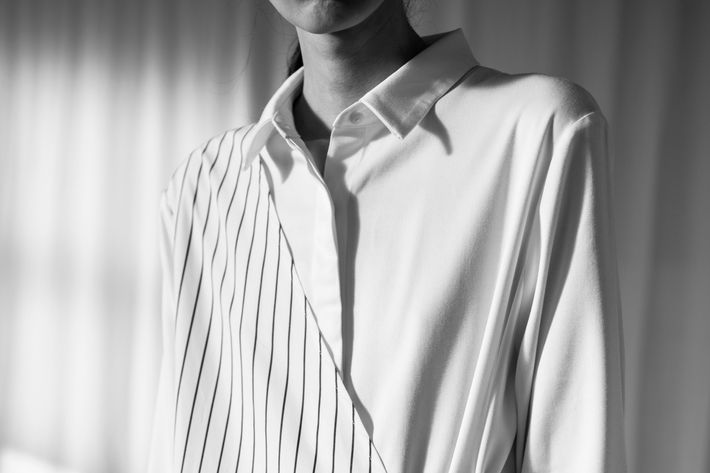 This year Mote expanded her categories into a collection of deadstock nylon swimsuits, and her first shoe collection, which launches today on Moda Operandi. The collection, which ranges from $490 to $675, is inspired by ikebana — the Japanese art of floral arranging — and will feature classic styles like mules, oxfords, and boots. The East Asian influence is most prominent in the wooden bamboo heels, while the leather was sourced from a family-run factory in Italy.