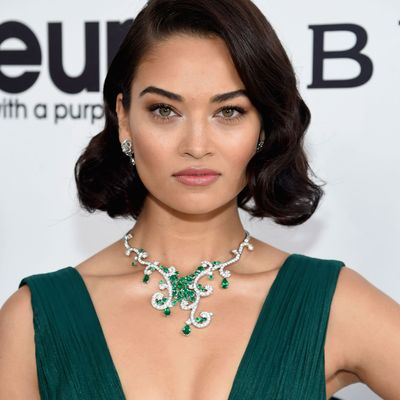 Shanina Shaik
Photo: Getty Images
Even if you don't know Shanina Shaik by name, you've certainly seen her. The Aussie landed stateside nearly a decade ago and hit the ground running on the triumvirate of model work: runway, catalog, and editorial. A certified New Yorker now, she can rattle off the best gyms in which to break a decent sweat and the one place in the city where she can chase Zen. The Cut caught up with the model whose indulgences include coconut coffee and "runway" facials.
How I start my day: I like to get up every day around 8:30 or 9. If I'm not working, probably around eight. I like to get up with coffee. I just went to Bali and we got amazing coffees and teas and one of my favorites is coconut coffee (from Jambe Asri Agrotourism) and you don't even need milk. I also like to make eggs. Any omelette with vegetables like spinach, peppers, mushrooms. If I'm not working, I'm usually getting up to go to a workout.
How I like to sweat: I like to do a mix for my workout because I find that when you do the same workout, you get bored of the gym, and also it's great to shock your body. I do yoga, Pilates, running, cycling, and boxing when I can. With Pilates, I usually do SLT, and will do that three times a week. I'll do yoga twice a week so I can stretch my muscles and elongate my body. Sometimes I will just go to one of my local gyms and do a small cardio session on the treadmill.
What I like to eat: I try to eat mostly vegan. I'm actually pescatarian at the moment, but it's mainly a vegetable-based diet. I find it really energizes me and makes me feel good about myself. You can feel so much better and you can also see it in your skin and your eyes. It's important for my job as well because my job is my life. It's 24/7 and it pays off.
How I pamper myself: I do Y7, which is in a dark, candlelit room. That's my meditation. In L.A., I go to Skin Thesis and it's just amazing. I get what's called a "runway facial." It's laser therapy for my face and it gets rid of any pimples or anything that's coming up to the surface. It also gets rid of dark marks or scarring. They can use a laser over your lips for a little pump, too.
My holistic shopping list includes: Manuka honey. I buy it mostly from New Zealand. Manuka Honey clears your skin over time, moisturizes, and helps with scarring. My favorite is from Wild Ferns. My girlfriend recently gave me Per-fekt's 10 Illuminating Perfector. It has jasmine green tea in it and you use it for your face, body, and hair. There's a beautiful, shimmer gleam in it. I use it for my face and I don't even need foundation after. I just did a film and I used that on my face and it was really amazing. The makeup artist is caught on now.
My wellness advice is: Find the foods and workouts that make you feel great. Everyone's different. Find what works for you.
This interview has been edited and condensed.